Bogdan Bogdanovic hit a buzzer-beating three-pointer as the Sacramento Kings snatched a narrow victory over the Lebron James-less Los Angeles Lakers on Thursday night.
Thursday night's scores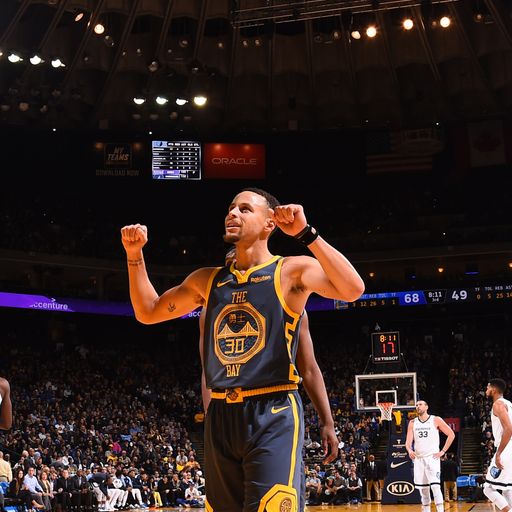 Conference standings
Who's leading the East and the West?
Los Angeles Lakers 116-117 Sacramento Kings
Bogdan Bogdanovic made a three-pointer at the buzzer to give the Sacramento Kings another come-from-behind triumph, earning a 117-116 victory over the visiting Los Angles Lakers, who were without an injured LeBron James.
Bogdanovic scored 23 points, Willie Cauley-Stein added 19 and De'Aaron Fox had 15 points with 12 assists and nine rebounds as the Kings won their third consecutive home game.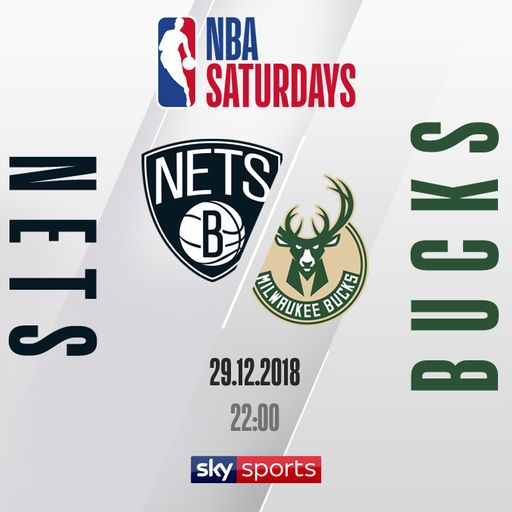 Watch Nets @ Bucks free on Sky Sports
Watch via free live stream on Saturday at 10pm on skysports.com or Sky Sports mobile app
After coming back from 19-point deficits in each of their last two home victories, the Kings took down the Lakers after trailing by 15 points with just under seven minutes remaining.
Lonzo Ball nearly delivered his own triple-double for the Lakers, scoring 20 points with 12 assists and nine rebounds.
Kyle Kuzma scored 33 points for Los Angeles and Brandon Ingram added 22 as the Lakers played without James for the first time this season.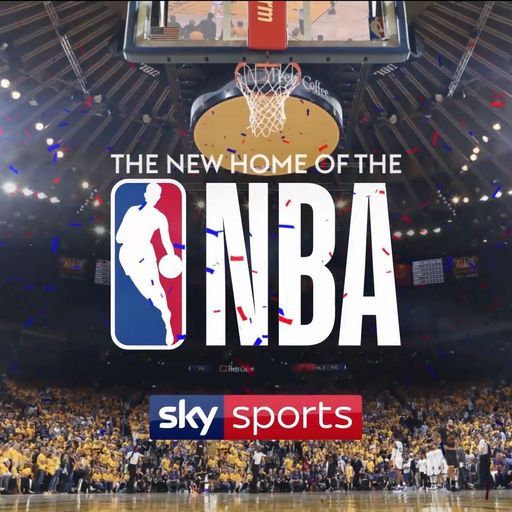 Get NBA news on your phone
Want the latest NBA news, features and highlights on your phone? Find out more
Trailing by 15 points with 6:44 to play after an alley-oop dunk from Tyson Chandler, the Kings went on the attack. Sacramento tied the game 112-112 with just under a minute remaining on three free throws from Justin Jackson.
Kuzma gave the Lakers a 115-112 edge on a three-pointer with 41 seconds remaining.
Ingram later made 1-of-2 free throws with four seconds remaining for a 116-114 Los Angeles lead before Bogdanovic made the long-distance three-pointer to win it as time expired.
Portland Trail Blazers 110-109 Golden State Warriors (OT)
Report to follow
Philadelphia 76ers 114-97 Utah Jazz
Joel Embiid scored 23 points, collected 15 rebounds, dished out six assists and blocked five shots to lead the Philadelphia 76ers to a 114-97 victory over the Utah Jazz in Salt Lake City.
Embiid finished a point shy of 3,000 for his three-year career before fouling out with 4:21 left.
JJ Redick added 24 points and Jimmy Butler chipped in 18 points for the Sixers, who won for the third time in four games. Ben Simmons finished with a triple-double, posting 13 points, 14 rebounds and 12 assists.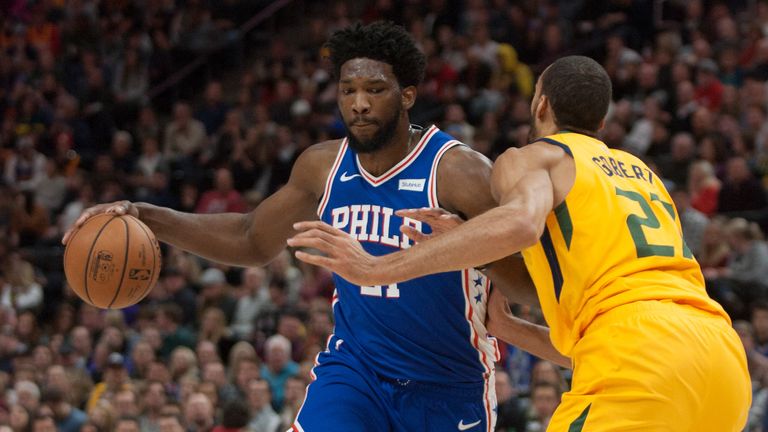 Donovan Mitchell scored 23 points and Dante Exum added 20 off the bench to lead the Jazz. Rudy Gobert chipped in 17 points and 15 rebounds for his 30th double-double of the season.
Utah shot just 38 per cent from the field while allowing the Sixers to shoot 50 per cent.
The Sixers took their first double-digit lead after Redick buried back-to-back three-pointers to make it 69-55. Philadelphia led by as many as 19 points during the quarter after Embiid hit a three and tipped in a lay-up on back-to-back possessions to put the Sixers up 95-76.
New York Knicks 96-112 Milwaukee Bucks
Giannis Antetokounmpo fell two assists shy of recording a triple-double in the Milwaukee Bucks' 112-96 victory over the visiting New York Knicks.
The 'Greek Freak' scored 31 points, grabbed 14 rebounds, dished out eight assists and blocked four shots.
Khris Middleton carried the early load as Antetokounmpo struggled from the floor. Middleton finished with 25 points, including nine in the third quarter when Milwaukee opened up a 12-point lead.
Things got testy early in the fourth when Enes Kanter knocked Antetokounmpo to the floor with a forearm to the head at the 9:56 mark.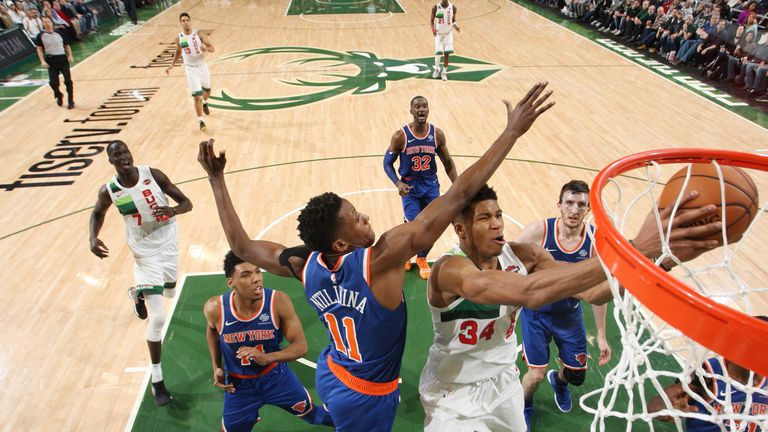 The two players went face-to-face with Kanter being the aggressor while play continued on the other end. Play stopped, and Kanter was given a double technical and ejected. Antetokounmpo also was assessed a technical but stayed in the game.
Malcolm Brogdon made the technical free throw, and the Bucks led by 10.
Milwaukee received a huge lift off the bench from DJ Wilson, who in 20 minutes of play scored 10 points and grabbed 14 boards.
Luke Kornet connected on 7-of-11 three-point attempts and led the Knicks with 23 points. Noah Vonleh recorded a double-double with 15 points and 13 rebounds.
Boston Celtics 113-127 Houston Rockets
James Harden matched his career high for three-pointers as the Houston Rockets extended their home-court winning streak to eight consecutive games with a 127-113 victory over the visiting Boston Celtics.
Harden scored a game-high 45 points, his eighth consecutive game with at least 30, and hit 9-of-18 three-points to pace the Rockets to their eighth win in nine games.
He survived a cool spell following a red-hot start only to catch fire again with four consecutive threes to help Houston pull away late.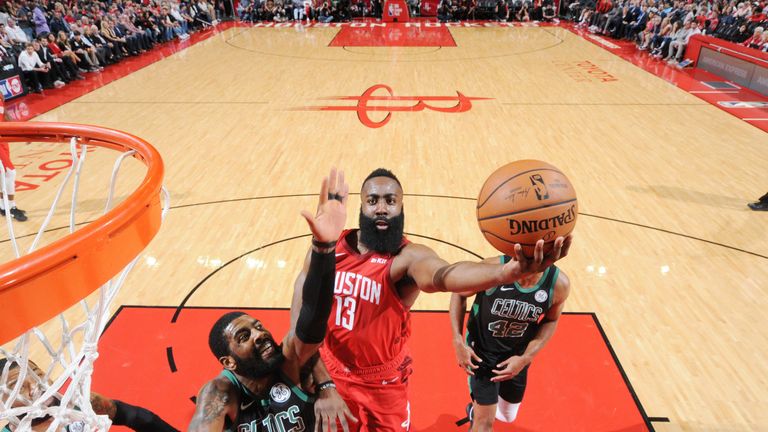 The Rockets supplied Harden with ample help as Clint Capela produced a double-double (24 points, 18 rebounds) while Eric Gordon scored 20 points before fouling out late in the fourth quarter. Austin Rivers and Gerald Green scored 10 points apiece off the Rockets bench.
Kyrie Irving led the Celtics with 23 points and 11 assists. Marcus Morris added 19 points before being ejected with 4:38 to play following his second technical foul.
Jaylen Brown tallied 18 off the bench for Boston, who erased a 17-point lead before falling behind for good in the third.
Sky Sports is the home of the NBA in the UK with live coverage throughout the week, including selected live games free to all Sky subscribers via Sky Sports Mix. www.skysports.com/nba will be your home for news, reports, video and features throughout the season while you can follow us @SkySportsNBA
Source: Read Full Article