Jeff Kennett has described the AFL's Mother's Day fixture as "ridiculous", calling on the league to pit two Victorian clubs against each other in the mid-afternoon slot or scrap the match altogether.
Speaking after Hawthorn's game against Greater Western Sydney at the MCG on Sunday – a match that drew the Hawks' lowest attendance at the venue in 15 years – the Hawthorn president has also claimed a glut of Sunday afternoon home games this year could end up costing the Hawks up to $1 million.
The Hawks beat the Giants in front of an uncharacteristically small crowd on Sunday.Credit:AAP
Sunday's match was the Hawks' fourth home game in the 3.20pm Sunday timeslot already this year. Three of those games were at the MCG, while one was in Launceston.
Hawthorn also host Gold Coast at Marvel Stadium in a twilight game on the Sunday of round 22.
Just 14,636 people attended Sunday's game, the lowest Hawthorn home crowd at the MCG since 11,682 watched the Hawks lose to Port Adelaide in the dying days of Peter Schwab's tenure as coach in 2004.
Mother's Day has long been a scheduling issue for the AFL, which has tried various options this century – including later starts, no games at all in Melbourne, and Monday night football the day after Mother's Day – to address the problem.
Kennett pointed his finger squarely at the league.
"The AFL have quite deliberately put together a schedule that does not help Hawthorn. It is costing us this year between $500,000 and $1 million in lost revenue over last year," Kennett told The Age.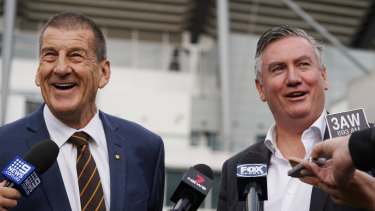 Jeff Kennett and Collingwood president Eddie McGuire last week.Credit:AAP
"And I can only say that, yes, yesterday's crowd was very disappointing, but it's a Sunday afternoon, which don't attract good crowds, and secondly it was Mother's Day. So why is anyone surprised? So many of my friends and associates were having family days.
"I don't blame our members at all. It's a scheduling issue. I don't know why they're doing it, but they are, and they've got their own rationale. As you know, the AFL have never been terribly considerate of the needs of Hawthorn. But that's life."
Kennett said the AFL should either schedule a blockbuster at the MCG or scrap the concept entirely.
"I would, personally. If they want to play a Collingwood-Richmond game or a Collingwood-Essendon game, let them see what they get in terms of crowd. But what they've done is put together a highly successful Victorian team with a highly successful interstate team which has very few members in Melbourne," he said.
"I think having a game at that hour on Mother's Day is ridiculous, and destined to fail, if in fact attendance is the primary focus. And I know it's not the primary focus of the AFL anymore, it's viewer eyes, as opposed to those attending grounds.
"I just feel it's self-defeating. Either you have two Victorian teams, and hope that'll attract a crowd – I don't think it will – or you give it away."
Just 21,156 watched North Melbourne's match against Geelong at Marvel Stadium, which started at 1.10pm on Sunday, although 42,641 attended Fremantle's game against Richmond in Perth.
Source: Read Full Article