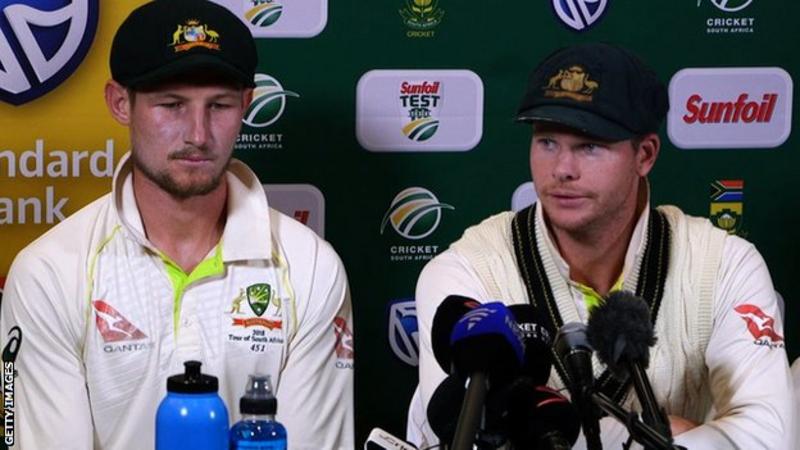 Steve Smith, David Warner and Cameron Bancroft should have their bans for ball-tampering lifted after a scathing review of Cricket Australia (CA), says the Australian Cricketers' Association.
Bancroft, Smith and Warner were suspended after the incident in March.
But an independent review commissioned by CA found the body to be "arrogant and controlling" and partly to blame.
"These contrite men have suffered enough. Let them play," said Greg Dyer, head of the players' union.
Cricket Australia 'partly to blame' in ball-tampering scandal
David Warner walks off field after 'sledging' in club game
Smith, captain at the time, and Warner, his vice-captain, are seven months into one-year bans, while Bancroft, who carried out the cheating in South Africa, will be eligible to return in December.
"Given there is now independent verification that CA's system and culture were contributory factors, the ACA calls for the lifting of the board-imposed penalties on Steve Smith, David Warner and Cameron Bancroft," added Dyer.
"The players have already lost time in the game, lost chances to play for Australia, endured public humiliation and faced massive financial penalties."
The ACA also called for the "urgent" implementation of all 42 recommendations in the 145-page report, which included complaints from those involved in the sport of a bullying culture in elite men's cricket.
Among the recommendations was an anti-harassment code to stop sledging, and training to improve team leaders' "moral courage".
The review condemned a "winning without counting the costs" culture that left players in a "gilded bubble".
As well as bans for three players, it also hastened the departures of coach Darren Lehmann and CA chief executive James Sutherland.
The governing body said it would accept most of the report's recommendations.
Source: Read Full Article