Australian star Joe Ingles has found a new NBA home, having agreed to a one-year deal with the Milwaukee Bucks in free agency, his wife Renae Ingles confirmed.
Renae Ingles took to social media to declare that Joe "was very bucking happy", and ready to join superstar Giannis Antetokounmpo in his quest for a second title in three seasons.
Joe Ingles (centre) at the Boomers' World Cup qualifier on Friday night in Melbourne.Credit:Getty Images
NBA writer Chris Haynes reported the deal is worth US$6.5 million ($9.3 million).
Joe Ingles' 2021-22 season campaign ended abruptly in January when he ruptured his anterior cruciate ligament while playing for the Utah Jazz in a loss to the Minnesota Timberwolves.
His rehabilitation continues apace, including at the Victorian Institute of Sport. He is in Melbourne this week watching the Australian Boomers face China and Japan in their FIBA World Cup qualifiers.
After his injury, the Jazz sent Ingles, 34, to Portland as part of a three-team trade with the San Antonio Spurs. Ingles was included in the deal for salary purposes.
The talented swingman, a key member of the Boomers' breakthrough bronze-medal squad in Tokyo last year, spent the first eight years of his NBA career with the Jazz. He can spread the floor with his distance shooting – he is a career 40.8 per cent from beyond the three-point line – and is an excellent passer.
While Ingles prepares for a major move, the opening day of the NBA's free agency was highlighted by Kevin Durant's bombshell decision to quit the Brooklyn Nets. Nets GM Sean Marks is working with Durant and his agent Rich Kleiman on finding a trade destination.
Title contenders the Phoenix Suns are reportedly his preferred option, according to Yahoo Sports, but the Miami Heat are also on his list.
Patty Mills is reportedly re-signing with the Nets despite reports superstar Kevin Durant has requested a trade away from the club.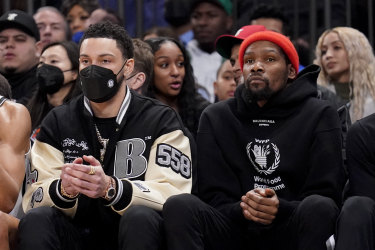 Ben Simmons (left) did not play a game with Kevin Durant last season and will not get the chance to with Durant wanting out of the Brooklyn Nets.Credit:AP
The Athletic reported on Friday morning AEST that Mills had accepted a two-year, $US14.5 million deal to remain at the Nets after the 33-year-old declined to pick up his $US6.2 million player option with the club on Thursday.
Durant signed a four-year, $194 million contract extension with the Nets last year that kicks in this week.
Fellow Nets superstar Kyrie Irving is also hoping to be traded. This could also have implications for Australian Ben Simmons – traded to the Nets from Philadelphia through the season. Simmons did not play a game last season because of mental health, contract and injury issues.
More to come
Most Viewed in Sport
From our partners
Source: Read Full Article