South East Melbourne Phoenix won't be be intimidated by title favourites Sydney Kings when the teams meet at Melbourne Arena on Saturday night.
The Kings have lost just one of their 10 games this season and march into Melbourne looking to further extend their lead atop the ladder, while the Phoenix are on a two-game losing streak after falling to Melbourne United and Adelaide 36ers last round.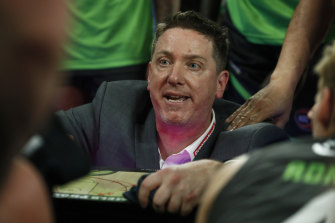 Phoenix coach Simon Mitchell says his side won't back down against the high-flying Sydney Kings on Saturday.Credit:Getty Images
The Phoenix clearly have work to do on their defence, especially in transition, while Monday night's 103-91 loss to the Sixers exposed the side to the reality when their shots aren't falling.
Phoenix coach Simon Mitchell said his side was facing a number of tests but still had the talent and mindset to stand up and beat the Kings, who haven't had things all their own way in gritty recent wins over Adelaide and Illawarra.
"Sydney are the leader of the pack right now but certainly fellable," Mitchell said.
"As a casual observer, I though they were really lucky with some calls down the stretch which got them over the line against Illawarra and credit to them, I thought they were fantastic and we'll borrow a little something from that.
"They are the leader of the pack but they are not insurmountable."
Mitchell was upset with some off-court lapses from his players heading into Monday's game.
"It's small deals," Mitchell said.
"Two guys late for a meeting this morning. One was a misunderstanding, one was 30 seconds late through the door. That's not good enough. Someone was a little rude to someone on the phone and it was overheard. We are going to hold people accountable for that stuff."
Phoenix point guard John Roberson said his team had to be honest with their form and how they can improve.
"We have got to be better as a unit, we have to be honest with each other, be able to look each other in the eye and say 'this isn't good enough'," Roberson said.
"We have to be better than this. We had an opportunity to separate ourselves from the pack and we couldn't do that. We have to get back to square one, put the work in and be better next game."
The Phoenix's 5-4 start still has them in the top four, but Adelaide and Brisbane (both 4-5) are now hovering behind them.
The Kings rank among the league's best defensive sides, conceding giving up 84 points per game, while the Phoenix are giving up 96 points per game and scoring 97 per game.
While shooting has been an early calling card for the Phoenix, Mitchell wants the team to adopt a stronger defensive mindset as the season progresses.
"Our identity right now is that if we are playing well at the offensive end then we will play a little better at the defensive end, and that's an also-ran basketball team to be honest," Mitchell said.
"You have to identify yourself as a defensive team and then create offence from that side of the floor, so that's where we have to grow as a club between now and the end of the season."
The Phoenix host Sydney Kings at Melbourne Arena on Saturday at 5.30pm.
Source: Read Full Article