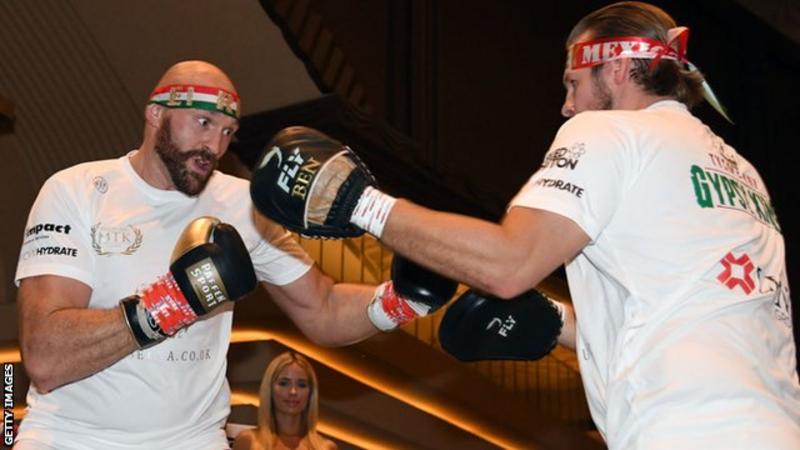 "Tyson is an extremist. He doesn't have a good mood. He has an extreme high or an extreme low."
Trainer Ben Davison knows Tyson Fury in a way few people do.
His role in the rebuilding of a former world heavyweight champion once floored by depression and subsequent weight gain has been critical.
Davison's ring work is complemented by the strength and conditioning expertise of Kristian Blacklock who, for the first time in a four-year relationship with Fury, has had a lean fighter on his hands from the start of a training camp.
"This version now, there is no limit to what we can do," Blacklock says.
As Fury gets ready to face Sweden's Otto Wallin in Las Vegas on Saturday night, the two men give BBC Sport an insight into managing his mind and talk us through his punishing regime.
Fury on finding 'true happiness'
Wallin draws on loss of father for inspiration
'He was 60% against Wilder – he's closer to 100% now'
Explosive movements were out of the question when Fury returned to training under Davison late in 2017, two years after his shock world-title success against Wladimir Klitschko. Likewise long runs. Both activities were too risky for a 28st man.
Davison, still only 26, faced criticism for his inexperience. But Fury took a chance on him and now their deep bond is obvious.
If he were to have all the success in the world and go back to the mentality of a couple of years ago, the success would mean nothing to me
Source: Read Full Article