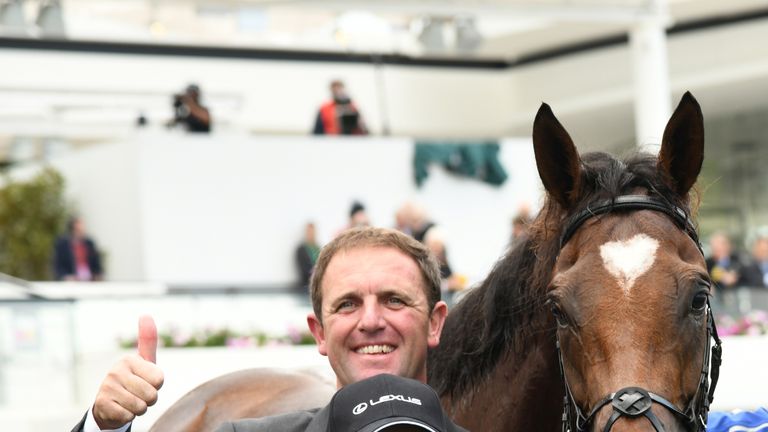 Charlie Appleby has his sights set on the Kentucky Derby after giving Godolphin their first Melbourne Cup triumph with Cross Counter on Tuesday.
It was the second time this year the Newmarket trainer had broken new ground for Sheikh Mohammed's operation after Masar became the first horse to carry the famous royal blue colours to victory in the Derby at Epsom in June.
Appleby would also like to emulate his fellow Godolphin trainer Saeed bin Suroor by winning the Dubai World Cup on Sheikh Mohammed's home territory.
"My ambitions are to carry on and to try to be successful and do the best we can for Godolphin and his Highness Sheikh Mohammed and having international winners," said Appleby.
"Every time we do that I feel that's a sense of achievement.
"To do that you have to have the momentum going. On January 1st we start at zero again. We've got to build away. We've given ourselves a bit of a path to maintain, let alone go above.
"The Kentucky Derby is of course on everybody's lips. It's not been done and to win a Dubai World Cup for myself would be great. Saeed (bin Suroor) has won plenty (eight) and I would like to get involved if I can.
"The Dubai World Cup and a Kentucky Derby would be high on the agenda and I imagine for His Highness Sheikh Mohamed's point of view he'd like to win the Kentucky Derby as well.
"As an Englishmen our pinnacle is the Derby. It had never been won in Godolphin blue colours. That is always going to go down as the most memorable day of my career, but to come here and do what we've done and see what it means to everybody and to Sheikh Mohammed is great.
"We've tried for over 20 years to win in this race and to do it is a huge sense of achievement, but most importantly it shows the passion and the drive His Highness and Godolphin have."
Source: Read Full Article