Boston Celtics point guard Kyrie Irving had his best performance of the new NBA season as he dropped 31 points in a narrow home win over the Detroit Pistons.
Irving had had a quiet first six games, averaging just 14 points per game on 39.1 per cent shooting, but, following criticism about his weight – combined with a new hairstyle – Irving responded in style.
He scored a season-high 31 points against the Pistons which included 10-of-16 from the field with four of those three-pointers. He also added five rebounds and five assists in 33 minutes to help the Celtics win 108-105.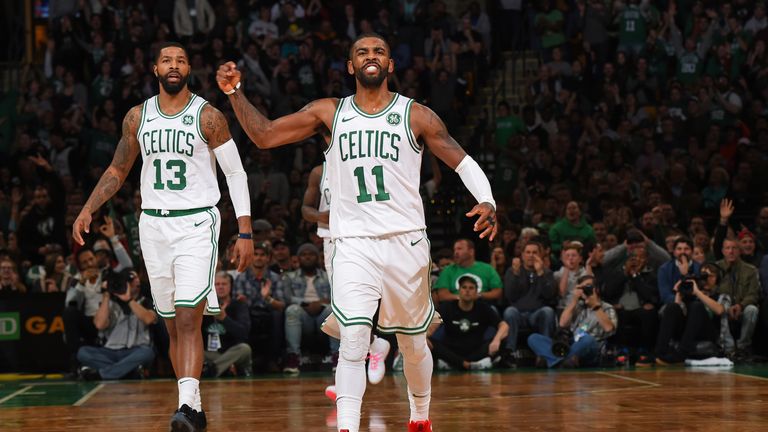 Irving admitted after the game that Hall of Famer Tommy Heinsohn's comments about him "looking five pounds overweight" inspired him.
The 26-year-old said: "It was the truth. I had to get in better shape, I had to become more dedicated to what I was doing.
"I was on the bike the next morning doing everything possible to prepare my body."
And it paid off at TD Garden on Tuesday night as Irving showed why he has some of the best handles in the NBA, with a delightful behind-the-back lay-up move.
Irving, who is coming off back-to-back knee surgeries, was sporting a different hairstyle too, getting rid of his afro to revert back to his familiar look.
Looks like Kyrie ditched the fro ?
(via cfernandez513/Instagram) pic.twitter.com/yroM4kSWCX
"It was just time," he said. "I had a great run with it. It was a great afro. I'm happy I did it. Time to get back to what I'm used to."
Click on the video above to see Irving's electric performance in the Celtics win over the Pistons.
And you can see if Irving can continue his form when the Celtics host the unbeaten Milwaukee Bucks on Thursday night live on Sky Sports Arena from midnight.
Source: Read Full Article