Mavs rookie Luka Doncic came away from his team's loss to the Lakers on Wednesday with a couple of things.
He got an up-close look at LeBron James, a player the 19-year-old called "my idol," and … a game-worn James jersey.
After the Lakers' 114-113 victory, on James' free throw with 2.1 seconds to play in L.A., Doncic, still in his uniform, waited outside the home team's locker room, The Dallas Morning News reported.
"I just wanted his jersey," Doncic said. "I asked him for the jersey in the game."'
Jersey finally in hand, Doncic headed back to the visitors' locker room. "I always wanted his jersey," Doncic said afterward (via ESPN.com), with the jersey sitting in his locker. "It was something special to me."
James signed the jersey to "Luka D" with the message "Continue to #StriveForGreatness." Doncic was so proud, he posted his prize on Instagram.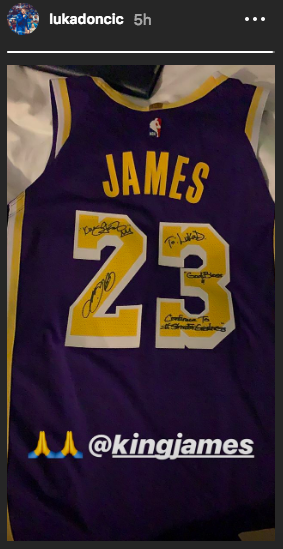 The Morning News noted that "(I)t probably was just coincidence that this may have been Doncic's worst game of his young career. He said his first three quarters were 'terrible.' But if 14 points, seven assists and five rebounds while shooting 5-of-11 is his low-water mark, his rookie season is going to be just fine."
Back in the Lakers' locker room, James — suitably idol-like with 29 points, six assists, five rebounds and three steals to go with the winning free throw — assessed Doncic's game, saying he's not surprised the teen is thriving on the game's biggest stage.
"I think European players are developed faster than NBA guys, meaning American players," James told reporters. "I think he's been in a pro development stage now for how many years? Since he's 15? So I don't think this is intimidating to him. I don't think this game is something he hasn't seen before.
"I think that's the best thing about European basketball, pro basketball over there. They develop their players so early."
Source: Read Full Article