Born in Greece, parents from Nigeria, and did not play a second of college basketball before being drafted – welcome to the "freaky" world of Giannis Antetokounmpo.
One of the emerging stars of the NBA, it has been a road less travelled for Antetokounmpo, a phenom more likely to cause your tongue trouble or break a spell checker or two.
But how did this special talent, widely known as "The Greek Freak", end up in Milwaukee and just what makes him so special?
Antetokounmpo is one of four brothers brought up in the suburbs of Athens, apparently showing much more interest in playing football than basketball as a teenager.
It was a tough upbringing for all of the Antetokounmpo family, with Giannis being unable to claim citizenship in either Greece or Nigeria until around the time of his breakthrough in 2013 – a stateless youngster but one who would soon learn toughness, both in life and in whatever sporting venture he tried to make a career out of.
His journey would be eased slightly by the help of numerous kind souls in Sepolia who moulded Antetokounmpo, and made life less painful for the entire family.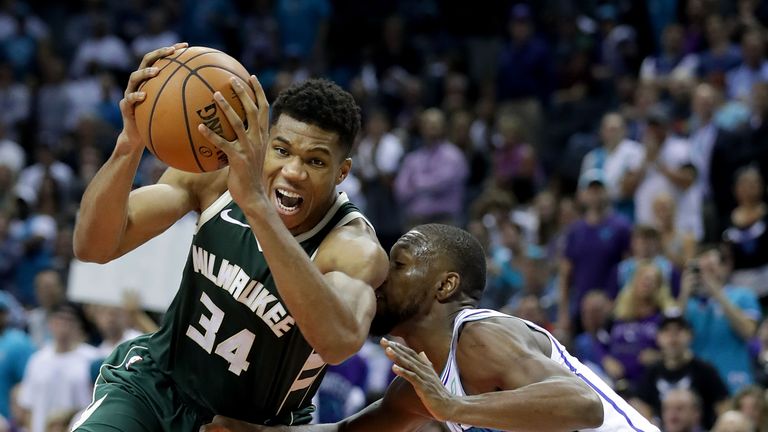 What has happened since shows exactly what sheer persistence can accomplish when combined with just a little bit (or in this case quite a lot) of simple human kindness.
On the court, Panagiotis Zivas and Spiros Vellinaitis from the local Filathlitikos team saw something in the scrawny Antetokounmpo – the rest is history.
He has developed from a player who "could not dribble or make a layup", according to Vellinaitis, to become one of the NBA's most exciting talents in less than a decade.
Overcoming latent racism in the land he called home, Antetokounmpo quickly picked up his new sport and came through the youth teams at Filathlitikos before stepping into the senior ranks in 2012 before he had even turned 18.
A year on he was set to continue his European odyssey in Spain but, before his contract with Zaragoza had even started, he declared for the NBA draft and was selected by the Milwaukee Bucks with the 15th pick of the opening round.
Some simply asked – who? Milwaukee's general manager John Hammond was not concerned about them. He had done more than his share of due diligence on a pick – given hindsight – that has since proved an absolute steal.
"If he hits, he could be special," Hammond said in a Nostradamus-style prediction that could not have been more spot on.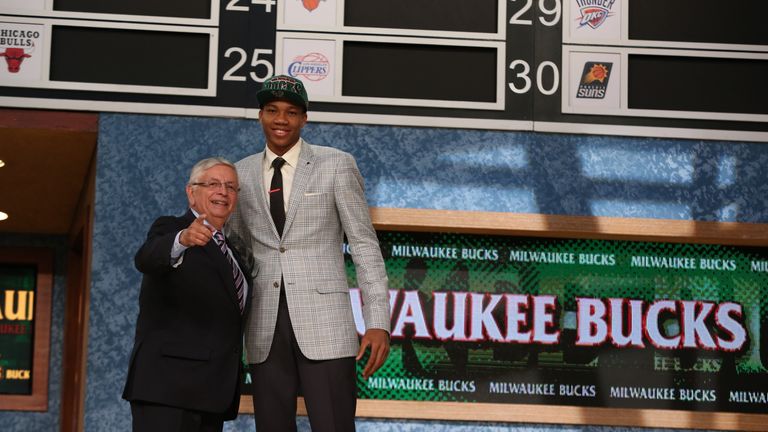 That 2013 draft did include a couple of top-level talents – Victor Oladipo went No 2 and CJ McCollum at 10 – but it is filled of horror story selections headlined by the No 1 pick Anthony Bennett, who proved one of the biggest busts in NBA history.
It makes you wonder which NBA executive said "I wouldn't touch him" when previewing the 2013 class ahead of that draft – I wonder if he is still in a job?
Boston Celtics general manager Danny Ainge was honest in his decision not to pick Antetokounmpo, even though he called him a bright talent.
"Never in a million years did I see him becoming a potential best player in the league type of talent. He was long, but he was really, really skinny and maybe three inches shorter than he is now," Ainge, who instead selected the serviceable but unexciting Kelly Olynyk, said.
Ainge's is not the only story in NBA history of a GM making a mistake – and again, hindsight is a wonderful thing – but there were some questions hanging over the Antetokounmpo selection for the first 18 months or so of his NBA career with only the odd sign of something spectacular.
It took until midway through his second season for the penny to drop that Antetokounmpo might just be a star in the making – he doubled his points average to 12.7 and made it to All-Star Weekend as part of the 2015 Slam Dunk Contest.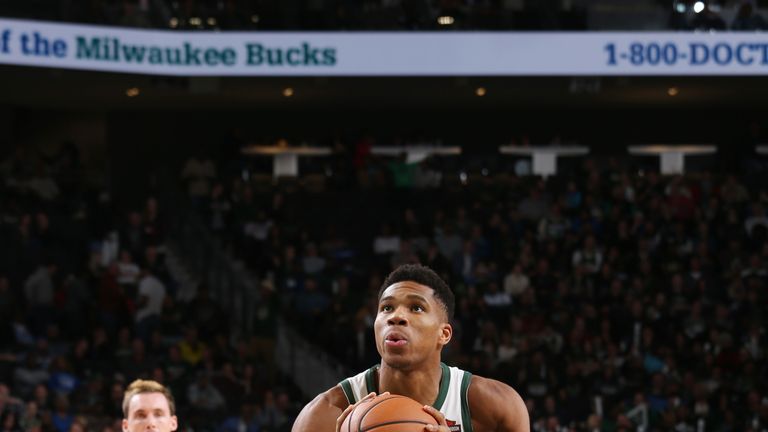 By the end of the 2015-16 season, it was certain – Antetokounmpo was an absolute steal.
Four triple doubles (more than 10 points, 10 rebounds and 10 assists in the same game) set a Bucks record and his points average spiked to 16.9.
Twelve months on, you could add another six points to that average and Antetokounmpo had a freshly-minted $100m four-year contract in his back pocket.
Fantasy NBA players love Antetokounmpo – he does absolutely everything including great numbers in steals and blocked shots – and his 2016-17 season was a record-making one. The first player in NBA history to rank in the top 20 for total points, rebounds, assists, steals and blocks.
By the end of last season, the average was a stellar 26.9 points per game, and there would be an average of 10 rebounds to go with that. Few players ever average a double-double, even fewer a 20-10 average – elite? Absolutely no question.
He is heading closer to the pantheon at the still tender age of 23, even joining the legendary Wilt Chamberlain in the record books this season – he had 25 point, 15 rebound games in his first four games, becoming the first to achieve that since Wilt nearly 55 years ago.
Now what he needs is a team around him, and in the 2018-19 Bucks it looks like he might just have it, with a fully-fit Khris Middleton giving him a second star to rely on and Eric Bledsoe able to run an offense to fit his needs.
Exciting times in blue-collar Milwaukee, a city that Antetokounmpo (and your writer) absolutely loves and wants to bring success to, having said: "I can feel the love every day I step on the floor. I don't care about glamour and big markets. The way I feel now I want to keep playing for the Bucks for the next 20 years."
I think they will have you Giannis and, by then, they might have learned how to say your name!
Sky Sports is the new home of the NBA in the UK with live coverage throughout the week, including selected live games free to all Sky subscribers via Sky Sports Mix.
And www.skysports.com/nba will be your home for news, reports, video and features throughout the season while you can follow us @SkySportsNBA
Source: Read Full Article