The Golden State Warriors have banished bad memories of the 2017/18 and rediscovered their regular-season mojo with an exhilarating start to the current campaign, writes Lee Harvey.
The 2017/18 season was a struggle for the Golden State Warriors. They battled a title-winning hangover and struggled to find focus and motivation in the regular season before ultimately successfully defending their NBA title.
Eight games into the 2018/19 season, those struggles have been noticeably absent as the champions have produced highlight after highlight on their way to a 7-1 start.
Why have they found their best form so quickly this time around?
Watch New Orleans Pelicans @ Golden State Warriors
Live on Sky Sports Main Event and Sky Sports Arena, Thursday 2:30am
It is generally accepted throughout sport that defending a title proves tougher than winning it in the first place. The Warriors' success since their title win in 2014/15 amplified those difficulties.
Following that title win, they won a record 73 regular season games in 2015/16 before losing to the Cleveland Cavaliers in the NBA Finals. Another title followed in the 2016/17 season.
Then came last season, a 58-24 (they had won 67, 73 and 67 games in the previous three season) slog to reach the playoffs before a third title in four years was delivered.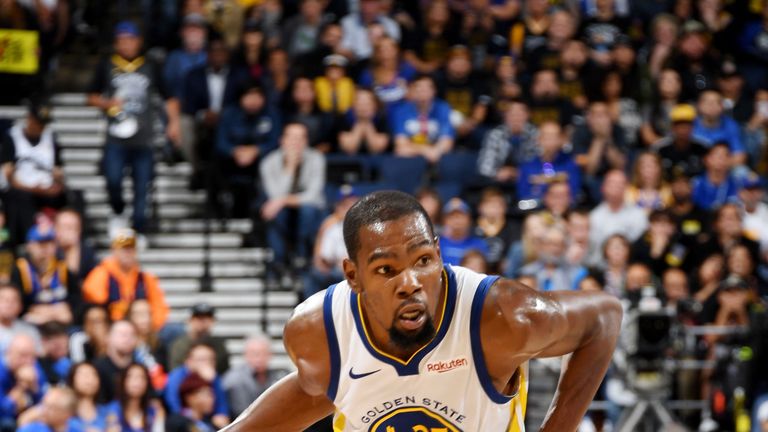 From 2014 onwards, Warriors basketball was characterised by a joyousness, exhilaration and, thanks to Stephen Curry's long-range sharp-shooting and distribution, a sense of the boundaries of the sport being pushed and ultimately altered.
When the 2017/18 season rolled around, they remained the league's best team but what else was left for them to aim for? What hadn't they already achieved over the previous three seasons?
By their own high standards, the 2017/18 campaign started poorly with the Warriors losing three of their opening seven games. Eleven wins in the next 13 games got things back on track.
Then came a defeat to the perennially-struggling Sacramento Kings in which the Warriors surrendered a 10-point lead, giving away a game they should not have lost. Coach Steve Kerr bemoaned a lack of energy on defense, a nod to their lack of regular season motivation.
It was not the only time that a lack of energy, along with uncharacteristic sloppy turnovers and occasionally-stagnant isolation offense, would blight their regular season.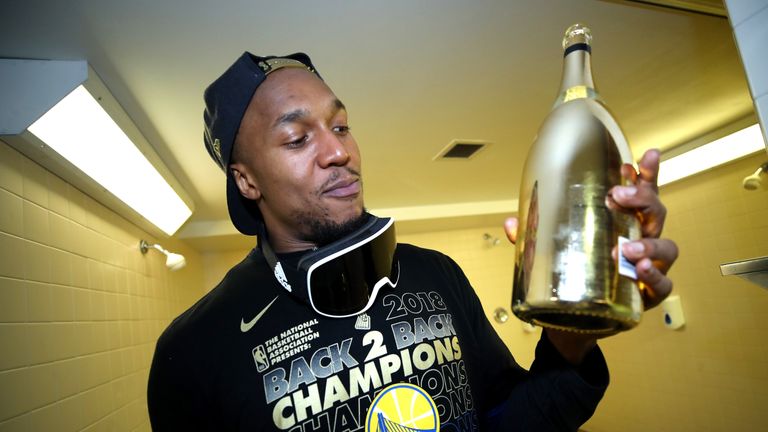 It turned out that everything was not well off the court too. After the Finals triumph, veteran forward David West hinted at behind-the-scenes drama that had taken place over the course of the season. West told ESPN people would be "shocked" at the full story but did not elaborate further. Reserve guard Shaun Livingston later credited Kerr for "dealing with our BS all year".
It was all very un-Warriors-like. But they won the title anyway.
It has only taken eight games of the new season for last year's travails to be forgotten, swept away by a rash of outstanding individual performances and team achievements.
Curry kicked things off with a 51-point outburst (in just three quarters) against the Washington Wizards.
Durant, quietly averaging 30 points a game at that point, then joined the party, firing 25 fourth-quarter points as the Warriors turned a tight affair against the New York Knicks into a 28-point blowout in the space of minutes.
Not to be outdone, after a slow start to the season, shooting guard Klay Thompson erupted with a 52-point performance against the Chicago Bulls, nailing 14 three-pointers in the process, a record for a single NBA game.
The previous mark, 13, had been set by his team-mate Curry.
The team stats over the opening eight games are even more frightening. The Warriors put a franchise-record 92 points up by half-time against the Bulls, on their way to 149 points for the game.
They lead the league in points per game, assists per game, field goal percentage, overall offensive rating and assist ratio, per nba.com/stats.
It's safe to say the Warriors have rediscovered their regular season mojo. But why?
Coach Kerr, who once referred to "stylistic differences" between Curry and Durant, believes the superstar duo have, after two years of playing together, learned to co-exist on the court, telling ESPN: "Winning back-to-back titles, I think there's probably a better comfort zone between the two of them."
Kerr also recently admitted he feels his two superstars may have found added motivation after being ranked in the lower reaches on the Top 10 in pre-season MVP predictions behind Anthony Davis, Giannis Antetokounmpo and James Harden.
Pistons @ Sixers free live stream
Watch the Pistons take on the 76ers via our free live stream on Saturday at 5pm – find out more
The Warriors have also learned from last year, discussed the problems and re-adjusted, according to Curry.
Speaking in Brooklyn after their 120-114 win over the Nets, the two-time MVP told ESPN: "It's kind of fresh in your memory in terms of how terrible a feeling it was night in, night out. Nothing clicking, not having any energy or juice. Just making things harder than they should be, so we've talked about it, we've been open about it as a team, kind of set mini-goals to start off the season better."
Roster construction may have also played a part. West's retirement in the summer cleared the way for seven-foot center Damian Jones to get more playing time.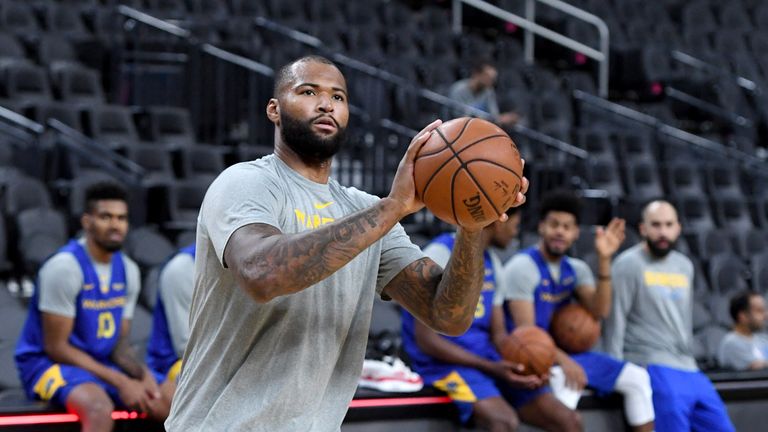 Then there's DeMarcus Cousins. The All-Star center, now in his 10th year in the league, signed with the Warriors as a free agent in July 2018 on a one-year $5.3m mid-level deal.
He is still rehabbing his torn Achilles, suffered while still playing for the New Orleans Pelicans in January. Should he return to action, the Warriors could field a starting line-up of five All-Stars.
The prospect of shaping their offense and defense to accommodate Cousins is a puzzle coach Kerr and his players will have to solve. It's not an easy task, but it is one that will surely keep them focused as the season wears on.
As the opening eight games of the season have proven, a fully engaged Golden State Warriors is a terrifying prospect for any opponent.
Wednesday night's fixtures
Watch the Detroit Pistons take on the Philadelphia 76ers via a free live stream on skysports.com and the Sky Sports app on Saturday at 5pm
On Saturday November 10, you will be able to follow the Milwaukee Bucks @ Los Angeles Clippers, also available on a free live stream, from 8:30pm on skysports.com and the Sky Sports app.
Sky Sports is the new home of the NBA in the UK with live coverage throughout the week, including selected live games free to all Sky subscribers via Sky Sports Mix.
And www.skysports.com/nba will be your home for news, reports, video and features throughout the season while you can follow us @SkySportsNBA
Source: Read Full Article