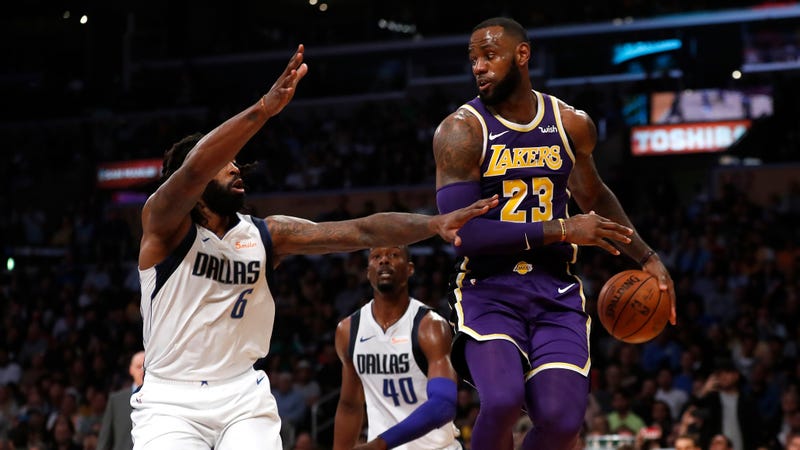 These Lakers are "Showtime," ridiculously so, but possibly in some ways that they would rather avoid. The saliva and sucker punch, yes, but also in a more general way. In some sense, the battle to prevent vomit pooling in your mouth from spilling out onto your fresh tuxedo while you race to the toilet might also be termed "Showtime," but you're not supposed to brag about that. LeBron's profoundly odd 3-5 squad has averaged a point differential of -0.1, the closest to nil in the whole NBA, and their last three games have been decided by margins of four points or fewer. Yes, some of their nail-biters this season have been hard-earned wins; kudos for those.
But it would be dumb to describe last night's near-catastrophic 114-113 win over the Mavericks in those terms. The puke very nearly found its way out. No lead is safe. It will never not be surreal to watch the league's best player, fresh off free agency, putting in the work and praying that his team can fend off the, uh, Dallas Mavericks bench in the wee hours of November, but he chose this life, after all.
Los Angeles ran up an 18-point lead in the first quarter with an unusual windfall of three balls. Dallas managed to cut it the margin to seven at halftime, before LeBron returned in the third to rain down 10 points and help push the lead to 16, before catching a few minutes of rest. Even while he was on the bench, the Lakers lengthened the lead to 19, their largest advantage of the game.
Here's the game flow, via ESPN:
Advertisement
That pinch at the end is bed-shitting part. With 3:42 remaining in the game, the Lakers still enjoyed a 111-98 lead. Then the Mavericks went on a 15-2 run, with contributions from Harrison Barnes, J.J. Barea, Luka Doncic, and DeAndre Jordan, while the Lakers offense sputtered out and missed six straight field goals. As regulation dwindled, the Mavericks ran the exact same Spain pick-and-roll action twice in a row, with perfect results. First they got an open Harrison Barnes three with James snoozing:
And then a difficult Luka floater to tie up the game:
Advertisement
With the ball in James's hands with 2.1 seconds to go, Los Angeles got a gift in the form of a dumb Wes Matthews foul. There is strangely good reason to be skeptical about LeBron at the line in these situations; he bricked his first free throw, then took the second to ice this unchill game. James probably isn't going to be spending his age-33 season coasting through fourth quarters against bad teams with a cool towel draped overhead. This man is seriously out here with both hands up contesting J.J. Barea 38-footers just so he can improve to a 3-5 record. And as an observer who genuinely wants him to solve this puzzle, every single moment of it remains glorious to watch.
Source: Read Full Article