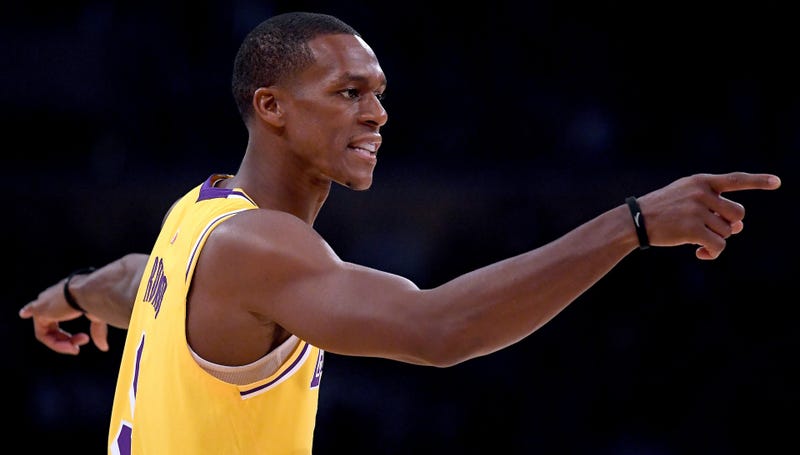 Cranky Lakers point guard Rajon Rondo is currently serving a three-game suspension for his role in last weekend's brawl between the Rockets and Lakers. That's one more game than Chris Paul got, and it seems Rondo will be forced to sit out that extra game because of the possibility that he spat in Paul's face. Enhanced footage shot by Rockets video staff appears to show something wet coming out of Rondo's mouth during the early part of the melee.
Rondo spoke today to ESPN and issued a vociferous denial of any possible spitting. He once again repeated his claim that he couldn't have spat because of his mouthguard, and he said that he merely "exasperated" because he was about to tell Paul to fuck off. Rondo's long explanation for why he didn't spit centers around his body language and the fact that every Rockets player didn't immediately throw hands as soon as the alleged spitting happened:
"One, if I spit on you, bottom line, there is not going to be no finger pointing. If you felt that I just spit on you, then all bets are off. Two, look at my body language. If I spit on you on purpose, I'm going to be ready for a man to swing on me. You ain't going to have my hands on my hip and my head look away at someone if I spit on them. After the [expletive] goes down, within 30 seconds, you run and tell the sideline reporters that I spit on you? If I spit on you, you are trying to get to me. You not trying to make up a story so you can look like a good guy. It makes no sense to me."
Okay, sure. Rondo reserved his harshest words for longtime beef-mate Paul, who he says is a lying scoundrel that got off easier because the league likes him more:
"Of course, the NBA went with his side because I got three games and he got two," Rondo told ESPN. "Everyone wants to believe Chris Paul is a good guy. They don't know he's a horrible teammate. They don't know how he treats people. Look at what he did last year when he was in LA; trying to get to the Clippers locker room. They don't want to believe he's capable of taunting and igniting an incident."
Advertisement
The Rockets all think Rondo spit on Paul, and their case centers around the high-quality footage that shows something zipping out of Rondo's mouth onto Paul's face. Rondo has been steadfast in his claim that it was only an "exasperation," and that he got a raw deal because Paul lied. "Y'all are playing me with these tricks or these mind games, tampering with the evidence," he said.
There you have it: The NBA executed a pro-Chris Paul conspiracy because he's a nice guy who does commercials, in the process falling for a doctored video and ignoring Rondo's mouthguard and Eric Gordon's posture.
[ESPN]
Source: Read Full Article