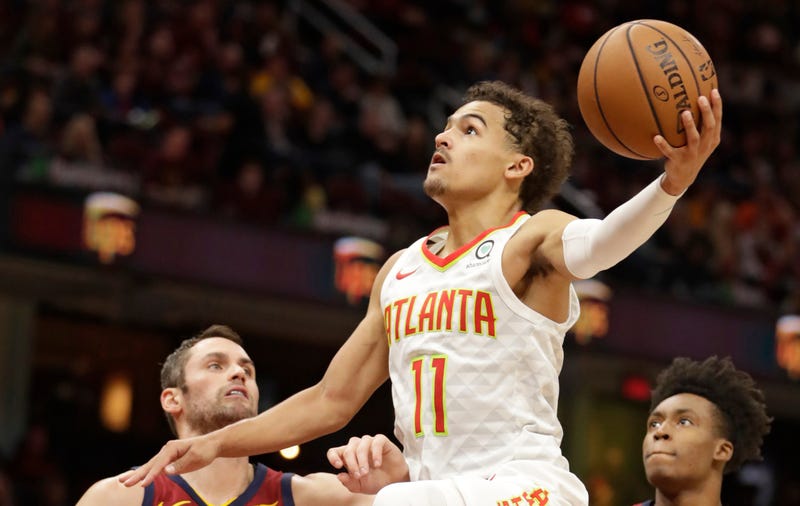 Trae Young was a tempting punchline leading up to the draft, and even for sometime after. You can count me among those doubters, at least to the extent that I foresaw a future in which he the teeny depraved chucker would get steadily shredded on the other end of the floor. Which is to say, I foresaw him being a handsomely paid New York Knick circa say 2026.
Incessant Steph Curry comparisons could not have done him any favors, either. Banking on the existence of another Steph feels doubly ridiculous when the first one already feels so improbable. When the Hawks traded away Luka Dončić to get their hands on Young it seemed to bode worse. Not just because of Dončić's unique size and pedigree and talent, although there was that, but also because plugging a remorseless gunner into Atlanta's charred husk of a roster seemed like such a gamble. Young's skill is obvious, but he's also a slim and not-so-fast craftsman who regressed in his freshman season, and he would now be tagged as the first option for a team playing its games against a much bigger and more athletic field of competition. His draft peers had previously dominated the second-best league in the world, or achieved Rob Liefeld musculature before legal drinking age, or gestured at wild shooting range while also standing seven feet tall; it's an understatement to say that the eye test was not favorable to Young among that group.
But to be clear: No one in this draft has anything approximating Trae Young's shooting range. Not so many people in the NBA can say that they do, either. Young will soon be passing up Ryan Anderson to join Steph and Damian Lillard in that rarefied tier of players who should not be sent to their bedrooms without dessert on principle for taking this shot at the end of games, for instance:

Look, I know it's just preseason, and just a few hours ago I yelled, "You're all freaks!" at my…
In any case, approximating Curry's range is impressive but also not quite the point. Steph Curry is Steph Curry because he can toss in bombs from the halfcourt logo, but also because putting stress on defenses that far from the cup warps the parameters of the game; it makes teams defend where they generally don't have to defend, and so unlocks all sorts of possibilities for teammates. If Young finds success in the NBA, and I hope he does, it'll be precisely because he's dragging his man those extra three feet out into wilderness.
Advertisement
Sunday, in his third game with the Hawks, Young offered the first clear sign that he might deliver on that promise. Full disclaimer: He did it against the Cavaliers, who own the worst point differential in the league through three games, as well as an encrustation of fly eggs and various slime molds and $120mm of Kevin Love. But 35 points and 11 assists in a player's third professional go-around is worth a look no matter what, especially when it's this fun to watch:
All the comically long Steph-style bombs are there, plus the scoop layups off roasted mismatches and the rare floater. Setting aside this 56 percent shooting performance, if this draft ultimately boils down to a battle between Young and Luka Dončić for best playmaker honors, this game could stand as Young's early submission. Delicately weighted entry passes float into the paint, zippy pocket passes spring off the pick-and-roll (my favorite is the bounce pass at 3:07), simple kick-outs find their way out of traffic—it's all there, with just one turnover on the other side of the ledger.
Advertisement
What is the point of the NBA or any sports-watching if not to violently and irresponsibly prophesize about some young player just three games into a career? It's still possible Young washes ashore at MSG in a decade, but it's also possible that a high pick-and-roll led up by him would be one of the most effective plays in the league at that time and that fans would cheer his arrival instead of sighing at it. Now that the Hawks have handed him the keys, it is on Trae Young to make his place in the league by demonstrating that he is good enough to buck its physical trends and fuck up its court dimensions. He's working on it.
Source: Read Full Article