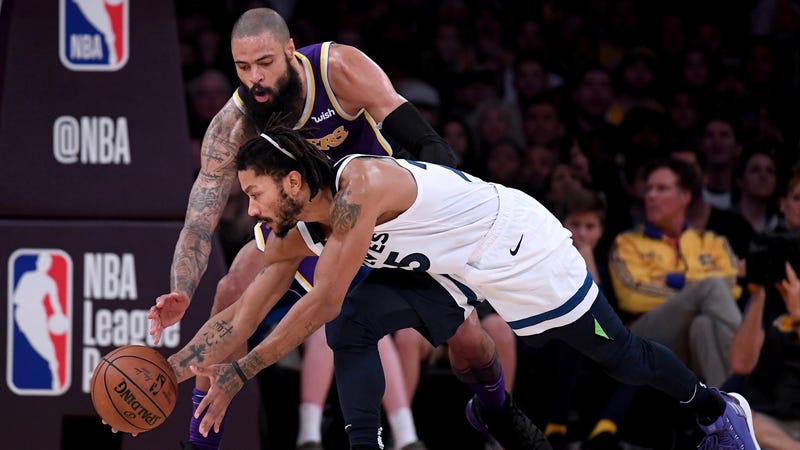 When Derrick Rose splashed a step-back three with 1:07 to go in last night's Timberwolves-Lakers game, it left the Lakers with a one-point lead that felt like a deficit. Rose is a career 30-percent three-point shooter, and that triple was his seventh made three of the game and his third in less than three minutes. He'd been lighting the Lakers up all night, and it seemed inevitable that, at some point in the remaining minute-plus, he'd hit one more to finish them off.
Who knows what the Lakers discussed in the ensuing timeout, or how exactly they planned on protecting or extending their teeny and endangered lead. Whatever they had in mind, I doubt it looked much like this:
That's a hilarious, nearly minute-long tip-drill of a possession; I urge you to watch it in its entirety. The Lakers miss all three of the shots they get up—and ornery 36-year-old Tyson Chandler, signed literally one day prior after the Phoenix Suns bought him out of his contract, just keeps getting them the damn ball back. LeBron James clangs a long three-pointer over Karl-Anthony Towns, and Chandler, tangled with poor hapless Andrew Wiggins under the rim, sneaks a hand out to slap the rebound out past halfcourt. Kyle Kuzma bricks an uncontested look from the corner, and Wiggins and Rose are too occupied with wrestling Chandler to be able to control the rebound, knocking it out of bounds and back to the Lakers. After the inbound, LeBron, gassed and completely out of ideas, pumps up a dead-legged 29-footer over Wiggins … and there's Chandler, untangling his limbs from Towns's just long enough to volleyball-slap the ball back out to halfcourt, fucking again. At that point, with less than a single shot-clock's worth of time left to play, the Wolves had no choice but to foul intentionally.
Kuzma made just one of two free-throws, and the Lakers still had to survive Rose missing a reasonably open look at a three-pointer that would have given the Wolves a lead with less than four seconds to play. So crediting Chandler, or just this one bonkers marathon possession, for the win is probably a little too much of a stretch to attempt in earnest. I won't attempt it, but I will say that I just really enjoy the fact that, over a stretch of play during which he interacted directly with either the ball or the person handling it for a grand total of like a nanosecond, Tyson Chandler just about assured victory for a team he'd been on for all of a single day.
Chandler can't really do much of the stuff that once made him an all-star, a DPOY, and, as ESPN's Zach Lowe put it, "the guy who damn near invented the modern archetype of rim-running, lob-catching center." He can't throw down alley-oops from outer space; he for sure can't do the thing he used to do, what feels like a thousand years ago, where he'd jump to contest a shot and then instantly pogo-jump a second time to haul in the rebound. But those infuriating volleyball offensive rebounds are vintage Tyson Chandler, too, and that's a more durable skill. Anti-gravitational leaping ability wanes with time and back injuries, but absurdly long arms are forever. After just one day on the job, he's already used them to help deliver his new team a win.
Source: Read Full Article