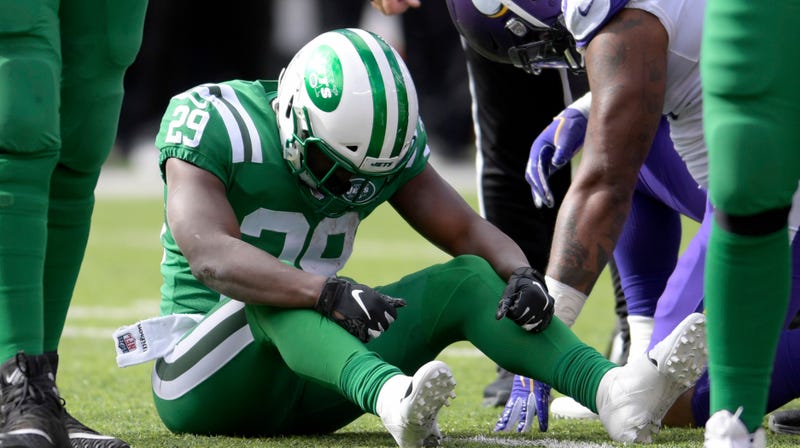 Jets running back Bilal Powell has been placed on season-ending IR after suffering a neck injury that will require surgery, and head coach Todd Bowles says there's a chance it could be career-ending as well. It happened on a play that didn't look all that bad at the time, which almost makes it scarier.
Powell was injured on a tackle from Vikings LB Anthony Barr in the second quarter of Sunday's loss, and you'd have been hard-pressed to tell that anything was wrong. Powell sat up almost immediately after the hit, and walked to the sideline. (It's the second video here.)
Bowles didn't give much detail on the nature of Powell's injury, other than that it's a disc injury and will require surgery. "It's possible" that it could mean the end of Powell's career, Bowles said, though that won't be known until after the surgery. Bowles revealed that Powell had a recurring injury, but "this time it just happened to be bad."
Powell, who turns 30 on Saturday, is 10th on the all-time Jets rushing list. He has 3,446 yards and 15 rushing TDs in eight seasons, all with the Jets. He's a free agent after this season, so even if he's medically able to play football again, he's going to need to convince some team of that.
Advertisement
In his absence, the Jets backfield will consist of Isaiah Crowell and rookie Trenton Cannon.
Source: Read Full Article