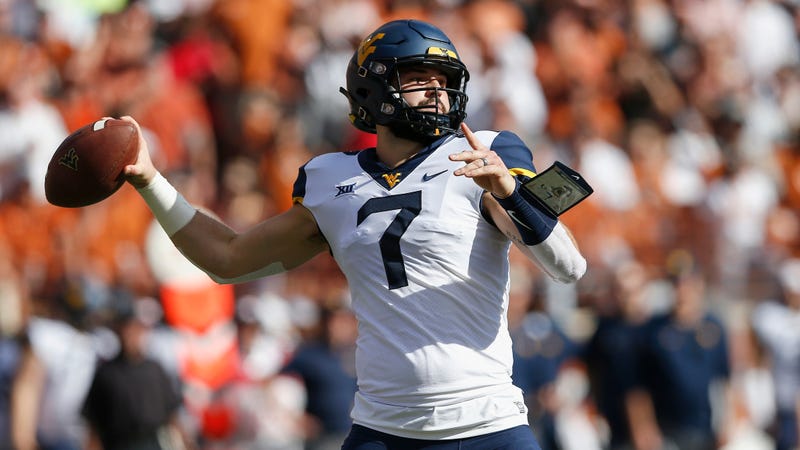 It's never the wisest decision to put a quarterback who was once a Heisman favorite this season in position to beat you with his arm. But that's exactly where the Longhorns placed Mountaineer QB Will Grier on Saturday, and they paid the price in excruciating fashion.
Up only one point on West Virginia at the end of the second quarter, Texas came into the second half with a defensive plan that was dedicated to pressure. If Grier was going to throw, he wouldn't have time to do so. If the Mountaineers were going to run, they wouldn't have anywhere to go. The strategy seemed to work at first, forcing a punt and a turnover on downs on West Virginia's first two drives while the Longhorns put a couple field goals on the board.
But Grier, an experienced quarterback in his redshirt senior season, had seen these kinds of schemes before. The next time his team took the field, West Virginia completed an 11-play, 75-yard drive that culminated in a touchdown that tied the game up at 34. Unfortunately for the Mountaineers, the Longhorns had a stellar quarterback of their own in Sam Ehlinger, who was able to come right back and throw a 48-yard touchdown pass to give his team the lead at home with just over two minutes left.
Sure, a comeback looked like a daunting task, but West Virginia coach Dana Holgorsen knew two minutes was plenty of time for Grier. The coach told his team before the series, "Let's go win this game."
It took Grier two minutes and 11 seconds to drive the Mountaineers down to Texas's 33-yard line. With the clock still rolling, Grier called for the snap, took a couple steps to his right, and with a funky little hop he lobbed an inch-perfect touchdown pass to receiver Gary Jennings that had no business being as accurate as it was.
Advertisement
With Grier taking the team this far, Holgorsen figured that giving the ball to anyone else would have been a mistake. Instead of kicking the tying extra point, he had his team go for the two and the win. He told reporters after the game:
"It was an easy decision," Holgorsen said. "If you put the fate of the game in (Grier's) hands, I feel pretty good about it…. We've had this 2-point conversion in our back pocket all year."
Advertisement
The Mountaineers succeeded on their first conversion attempt with a Davis Stills slant route, but the play was blown dead by a Texas timeout. On the second attempt, the Longhorns defense cheated over to Stills's side in the hopes that Grier would go to the same target. Instead, he dialed his own number and, after patiently waiting for an opening, strutted into the end zone.
"I had four different options on that play," Grier said. "I went with the fourth one, which was me running … I stayed on my feet, which was good. Whatever it takes to win."
Advertisement
The unspoken cherry on top of the moment was that Grier's celebration before the score seemed to bother Texas coach Tom Herman. Grier was still flagged for his "Horns Down" celebration in front of the crowd, for what it's worth.
"I thought taunting before you cross the goal line negated a score," Herman said. "I've got to brush up on my rules and get some questions answered."
Yesterday's performance might not have made Grier the frontrunner in the Heisman Trophy race—the jaw-dropping highlights from Alabama's Tua Tagovailoa and Oklahoma's Kyler Murray have made sure of that—but these sort of dramatic moments have a way of making the conversations around voting time just a little more interesting.
Source: Read Full Article