Max Verstappen in action at Baku
Follow all the latest F1 updates from the Azerbaijan Grand Prix in Baku as Red Bull's Max Verstappen aims to bounce back from his crash in practice and clinch pole. AlphaTauri's Pierre Gasly was fastest in Friday's third and final practice session, while Mercedes struggled.
Verstappen, leading the championship for the first time and four points clear of Hamilton after five races, was left as a mere spectator for much of the session after going into the barrier at turn 15. The session was halted for the car, with a broken front wing and suspension, to be removed. Ferrari's Charles Leclerc, who also hit the barriers at the same place on Friday, was fourth fastest with team mate Carlos Sainz fifth and McLaren's Lando Norris sixth.
Mercedes' seven times world champion Lewis Hamilton was third, after earlier complaining of a lack of grip, but his pace was increased significantly by running in the Mexican's slipstream. The aerodynamic 'tow' on the long and fast straight may have been worth as much as six tenths of a second to the Briton, Mercedes estimated. The champions have struggled for speed in every session and were out of the top 10 on Friday. Hamilton's Finnish team mate Valtteri Bottas was only 13th and 1.494 off Gasly's time. Follow all the action below.
Read more:
Verstappen crashes in practice as Gasly goes fastest
Exclusive interview: The coming of age of Max Verstappen
How it stands in Q1
So the headlines so far from a stuttering Q1 are that Stroll and Giovinazzi are out after crashing at the treacherous turn 15. Verstappen is quickest so far, with his teammate Sergio Perez second and the Ferraris closest to Red Bull. Lewis Hamilton now jumps to fourth as I type, with Valtterri Bottas eighth.
Azerbaijan GP qualifying back under way
We're back again. Q1, take three.
Mercedes sweating in Q1
The major issue here is that there are still 10 drivers without a lap time posted. Two of them are out of qualifying, of course, after crashes: Antonio Giovinazzi and Lance Stroll. But the other eight are running out of time to reach Q2. They include Lewis Hamilton and Valtteri Bottas – nervous moments for Mercedes. They have nine minutes left on the clock to get those tyres heated up and post a time.
Giovinazzi into the wall too! Red flag ❌
Oh dear. Another driver into the barrier at turn 15, another victim taken, another red flag.
Q1 is back under way ✅
Green light and Q1 is back on. Still 14 minutes on the clock.
Azerbaijan GP qualifying: Russell ready to go
One driver who has benefitting from the delay in Q1 is George Russell, whose Williams is fixed up and ready to go after a water pump issue forced him to switch to an previous power unit.
The moment Lance Stroll stepped away from his wounded Aston Martin: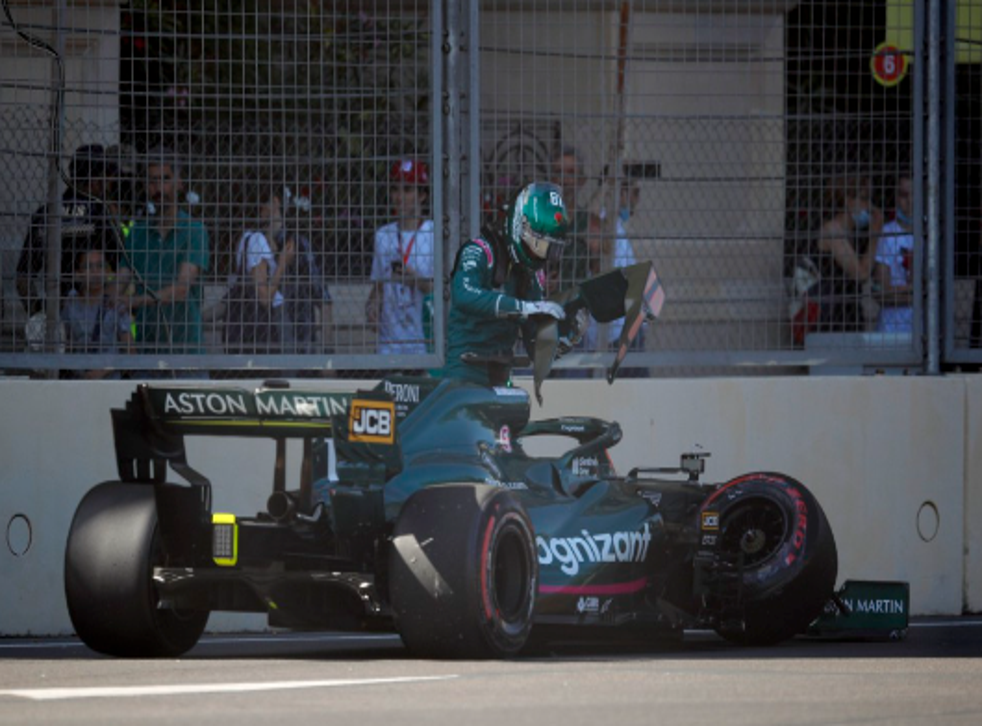 Lance Stroll climbs out of his Aston Martin
Q1 red flagged ❌
The red flags are out and the cars are back into their garages as the track is cleared. Only one driver managed to put a time on the board before the red flags came out: Ferrari's Charles Leclerc.
Azerbaijan GP qualifying: Lance Stroll into the wall
Oh no! A terrible moment for Lance Stroll as he runs wide on turn 15 and slams his front right tyre into the barrier. He heads back to the pits with his wheel hanging off like its just had a big night on the town. "Sorry guys," he says over radio.
Azerbaijan GP qualifying: Russell in the garage
The only driver not out on the track – George Russell. Williams are still working doggedly on his car in the garage while the rest enjoy the Baku sunshine.
Source: Read Full Article