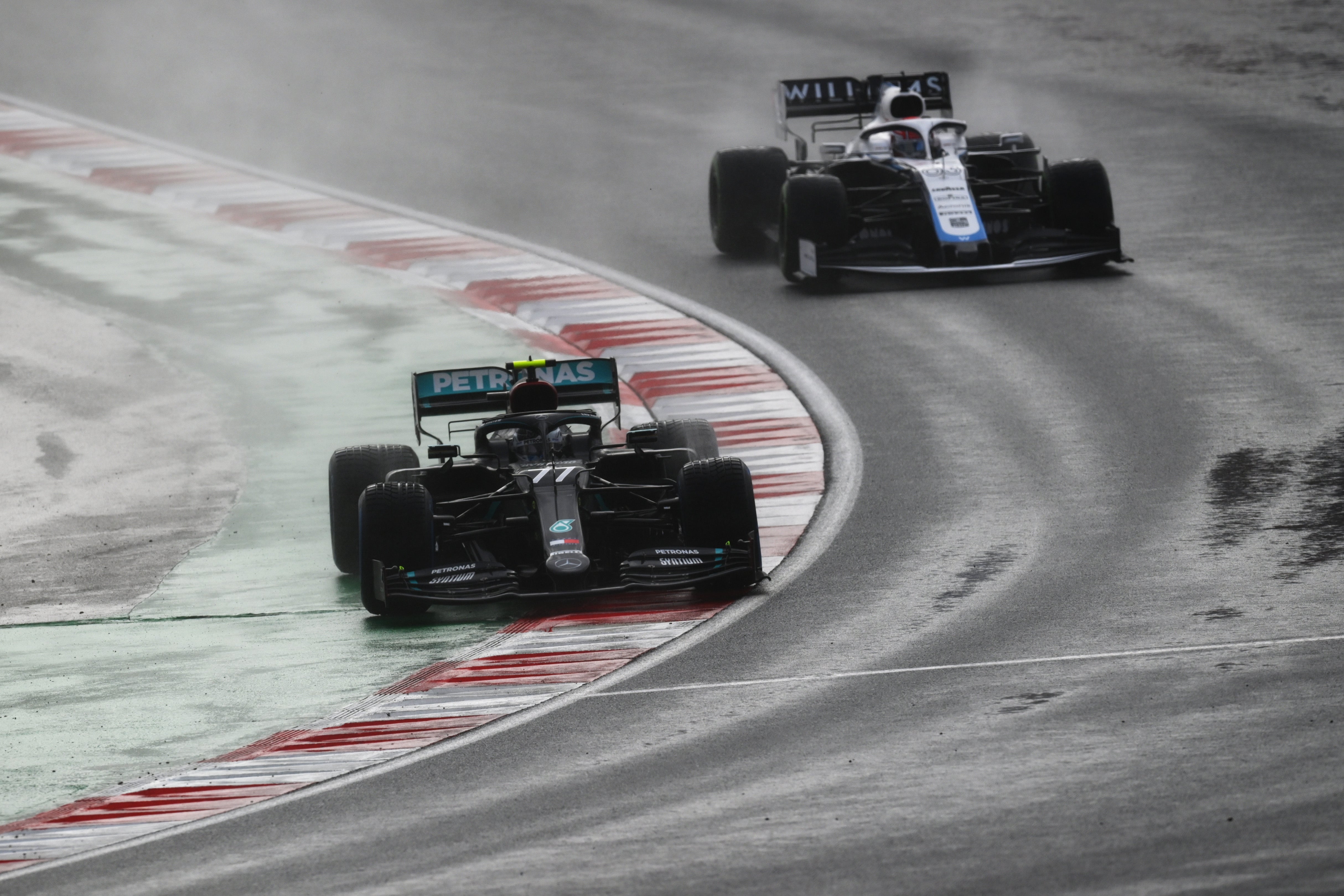 18. Kevin Magnussen (Haas) – up one
Magnussen was disappointed not to make Q2 as he criticised other drivers for not respecting yellow flags as he did – something the stewards agreed with when they handed out their grid penalties – and his frustration seemed warranted given he showed excellent pace in the wet during the race to progress to the top 10 and head towards a points finish. Unfortunately, the front-right wasn't attached to his car at his second stop, costing him two laps as he was retrieved in the pit lane and wrecking his afternoon through no fault of his own.
17. Romain Grosjean (Haas) – no move
Like Madnussen, Grosjean was going along rather nicely until his contact with the lapped Latifi left his car too damaged to continue.
16. Antonio Giovinazzi (Alfa Romeo) – no move
Giovinazzi fell into the same category as Russell in having an embarrassing accident before the race had got under way. Giovinazzi was lucky to take the start after being winched out of the gravel with the Alfa Romeo team replacing his front wing on the grid before the start, but that delay with the car still running may well have contributed to his gearbox failure on lap 11. That said, he did get to enjoy reaching Q3 for the first time in his career as he qualified a creditable 10th.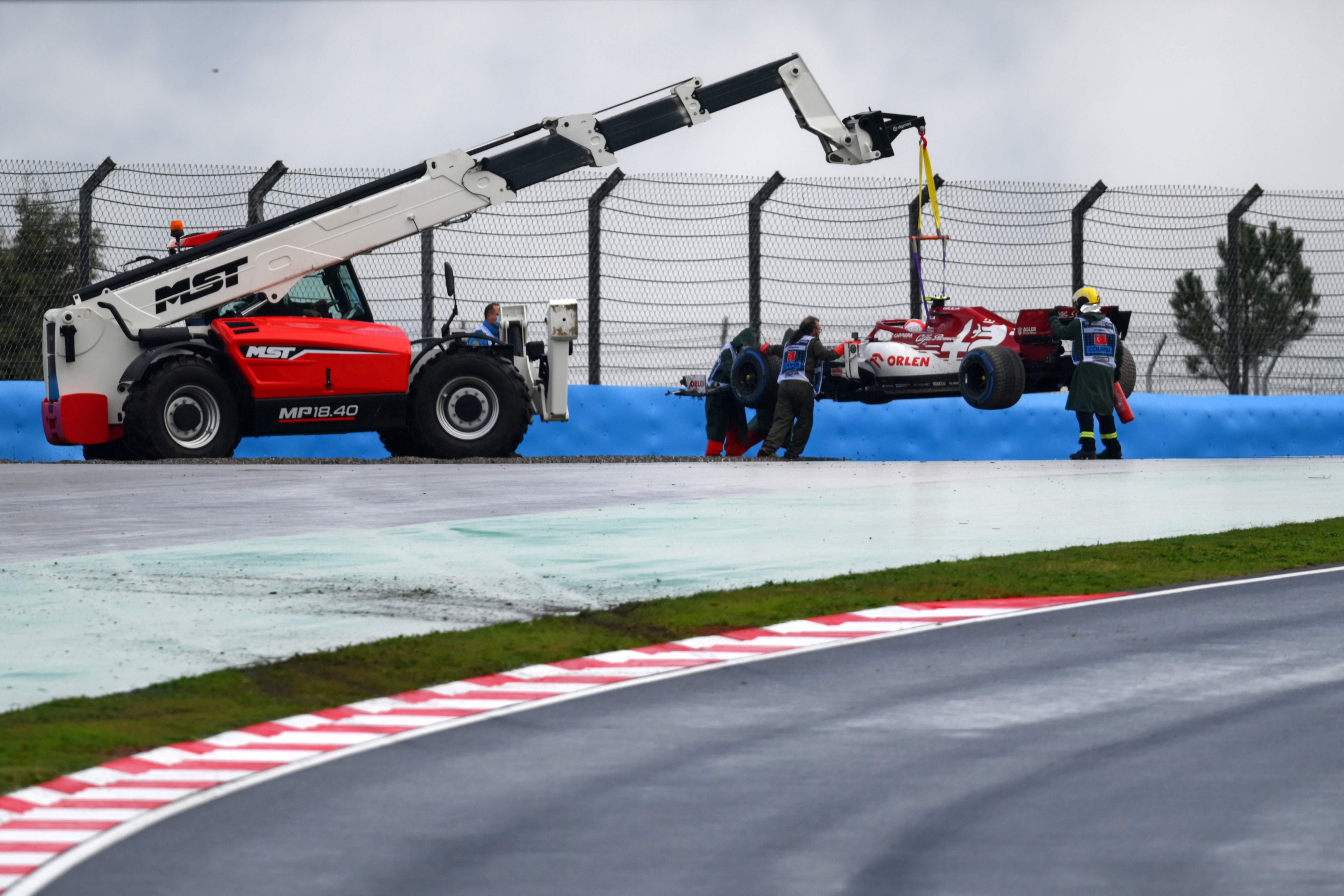 15. Kimi Raikkonen (Alfa Romeo) – down three
So much was expected from Raikkonen given his rallying experience and class in wet conditions, and he appeared to live up to this by qualifying in eighth on Saturday. But all that good work was unravelled on race day as he plummeted down the field, having been required to pit three times to finish a disappointing 15th.
14. Sebastian Vettel (Ferrari) – up one
Though it hasn't been hard, it proved Vettel's performance of the season as he secured a podium finish with a calm and assured drive – the type you expect from a four-time world champion. It has been a disastrous season for Vettel but on Sunday the German impressed as he kept Hamilton at bay through the first half of the race and kept his head to pick up the pieces of Leclerc's battle with Perez to snatch third place three corners from home. After more than a year off the podium, you can forgive him for standing on the wrong step.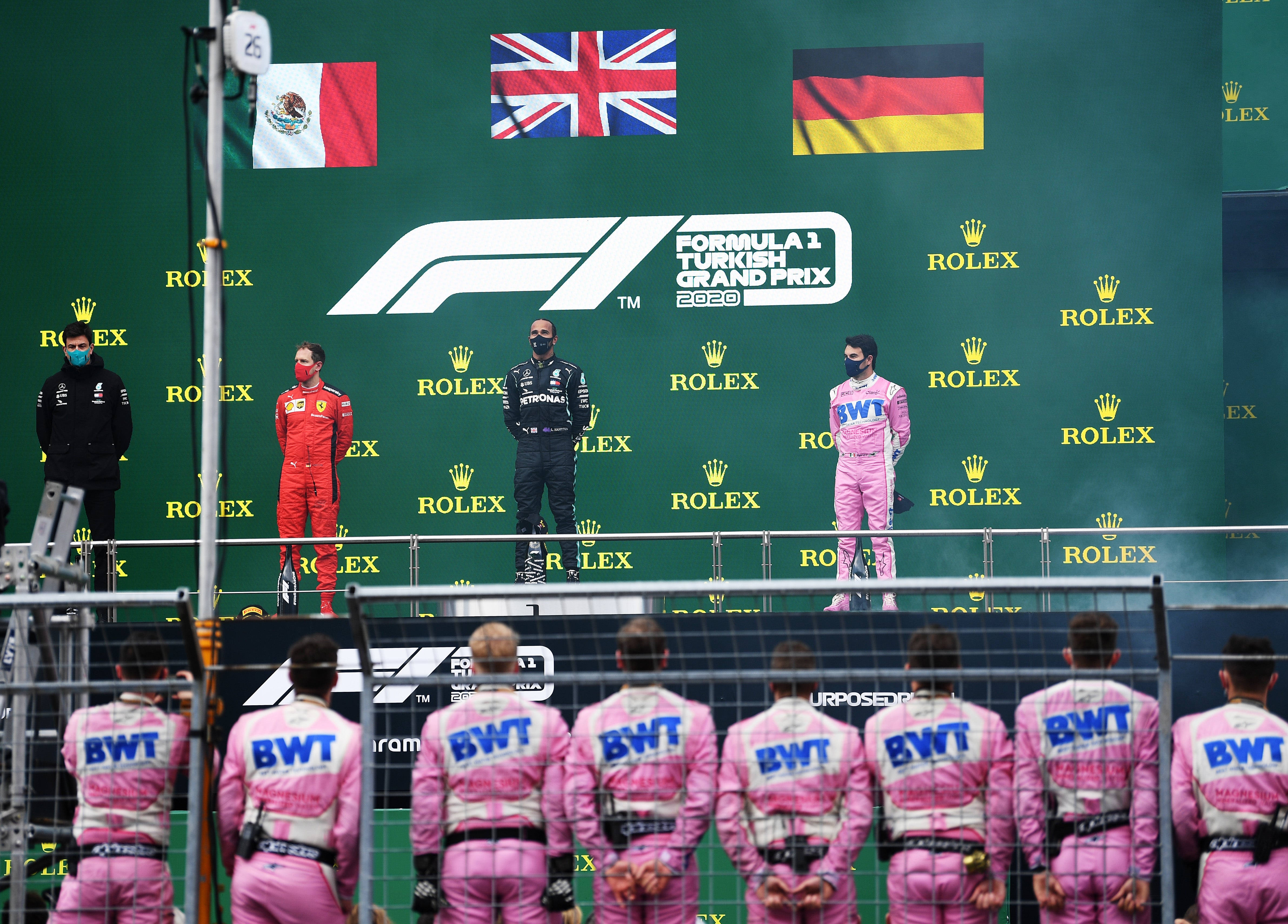 13. Daniil Kvyat (AlphaTauri) – down two
A tricky weekend for AlphaTauri saw them fail to get any pace out of the car all weekend, with Kvyat eliminated in Q1 much to his disappointment and enduring a rather quiet, uneventful weekend on his way to a 12th-place finish.
12. Alex Albon (Red Bull) – up one
It was a bit more like what we expect from Albon this weekend as he got his elbows out and mixed it up with the frontrunners, proving the man to watch pace-wise early as he set a series of fastest laps as the track improved. He will have been disappointed to have lost out to Verstappen by just two seconds, but a seventh-place finish in those conditions proved a solid drive, and it's worth pointing out that he was on the pace earlier in the weekend during the little dry running that drivers were able to complete.
11. Lance Stroll (Racing Point) – up three
A glorious opportunity missed for Stroll saw him dominate the first half of the race as he not only controlled matters from the front of the field but built a healthy gap that saw him favourite to take his maiden victory. However, the Canadian suffered from extensive graining on his intermediates that the team found to have been caused by unknown front wing damage, which saw his hopes unravel rapidly into a disappointing ninth-place finish. That said, he can still look fondly on his first F1 pole position and he also silenced a fair few critics with the way he pulled away from the field at the start.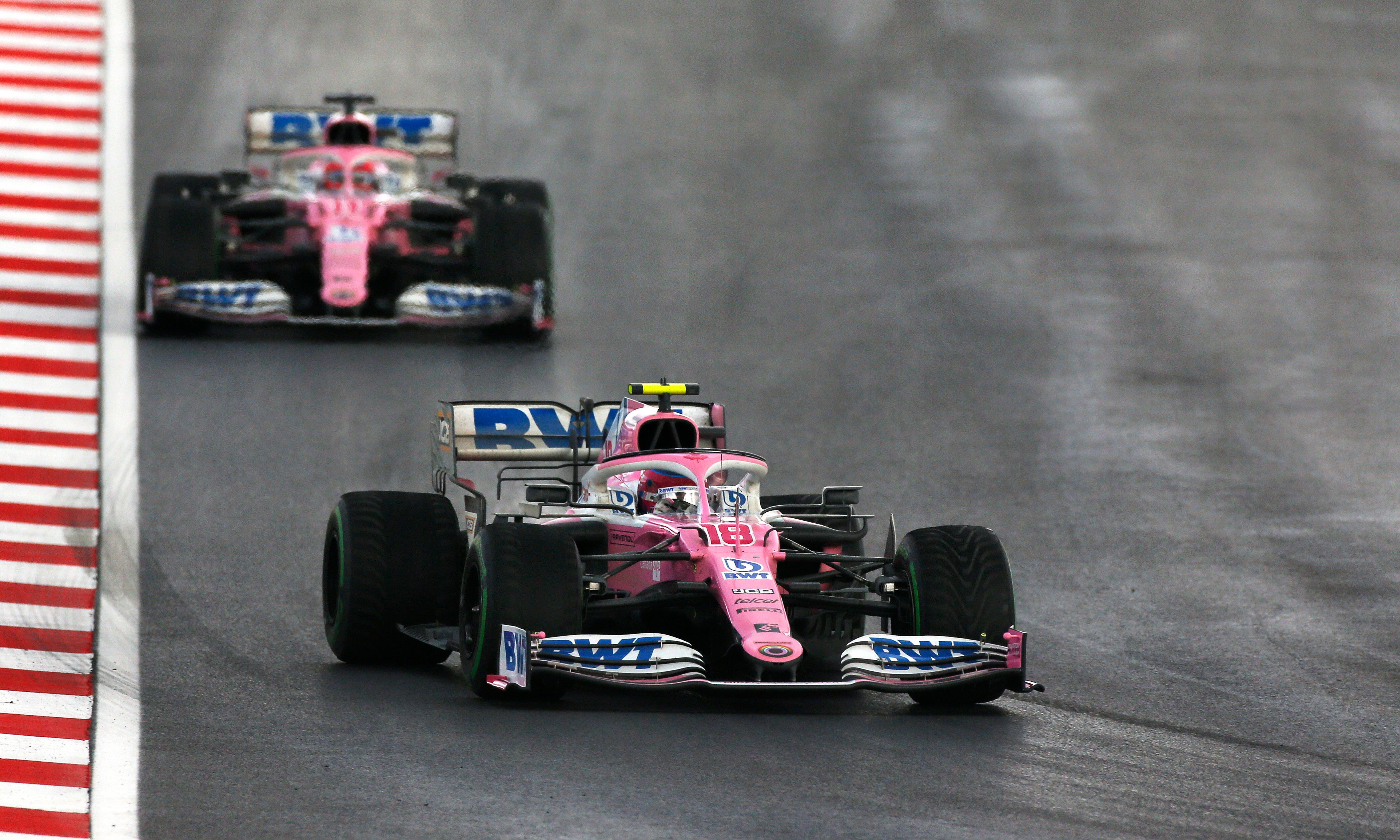 10. Lando Norris (McLaren) – down one
Norris will have been disappointed with his failure to reach Q2 on Saturday even though he out-qualified teammate Carlos Sainz, though a three-place grid penalty relegated him down to 14th and left him with plenty of work to do in the race. However, his Sunday afternoon certainly didn't lack any action as he fought his way into the points, benefitting from the first corner drama and setting a series of blistering lap times in the closing stages to take eight place and the extra point for fastest lap in the process.
9. Esteban Ocon (Renault) – down one
An impressive Saturday saw Ocon qualify in seventh and make an electric start off the line, only to be collected by Renault teammate Daniel Ricciardo to spin him around. However, Ocon was slightly at fault for the contact as he left very little room on the inside where there were two cars aiming for the same apex, and from that point on he was always going to struggle.
8. Carlos Sainz (McLaren) – up two
The Ferrari-bound Spaniard has really found his form in the second half of the season and tore through the pack early on to make the most of the conditions, which we know are to his liking. Consecutive finishes of fifth, sixth, seventh and now fifth again has helped him to fight his way back into the championship battle with teammate Norris, moving him up to seventh in the standings just a point ahead of the young Briton.
7. Daniel Ricciardo (Renault) – down two
Everything looked to be going in Ricciardo's favour on Saturday as he qualified in a healthy fifth position, but his race did not go as he hoped as he struggled on the intermediates, meaning he required an earlier final stop than his rivals that left him a bit of a sitting duck during the final stint, with a spin at the end of the back straight costing him precious time.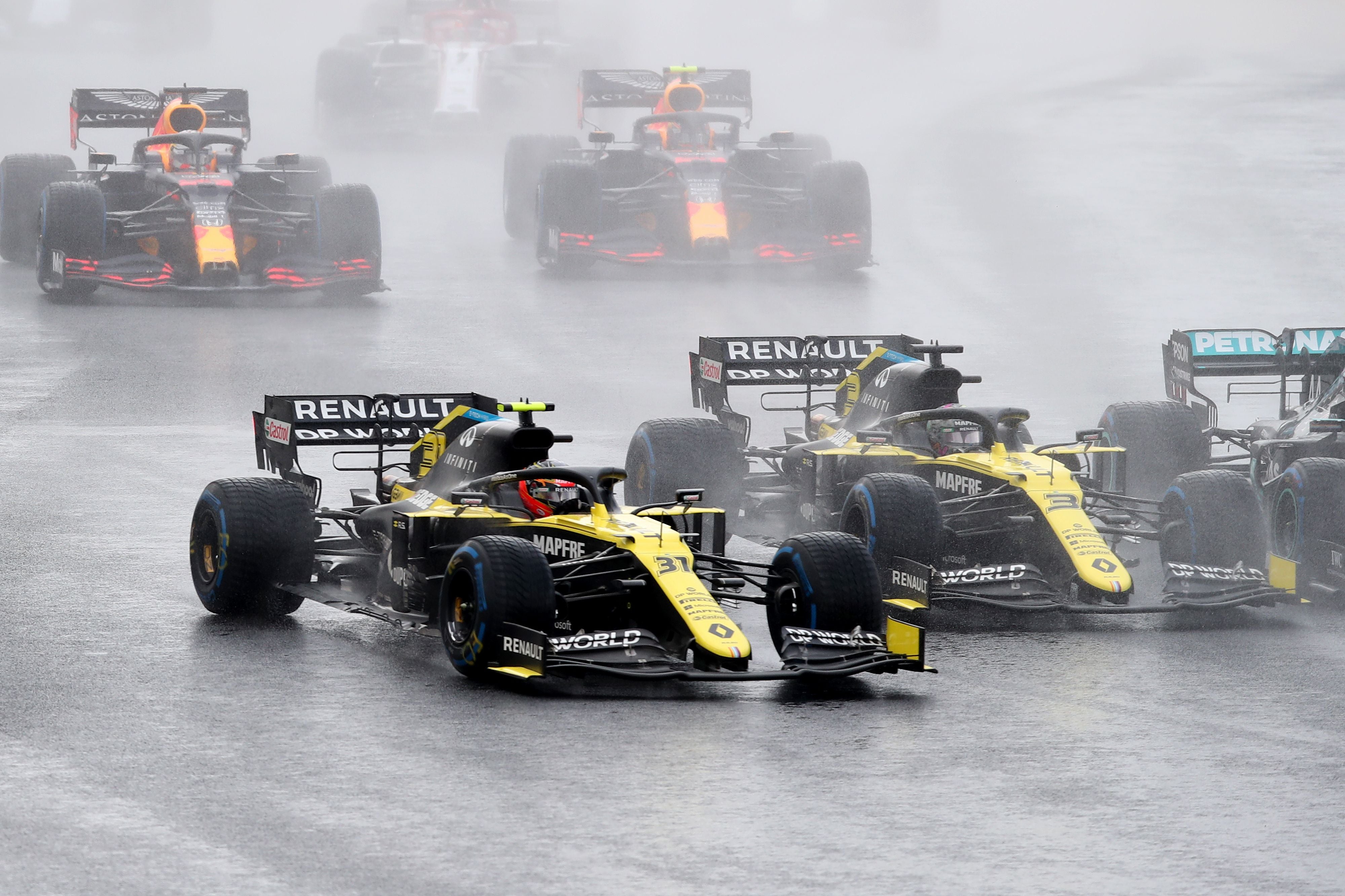 6. Charles Leclerc (Ferrari) – up one
It should have been a phenomenal podium finish from Leclerc after starting way down in 12th, having twice taken the brave decision to be the first man to blink by switching to intermediates and then committing to a two-stop strategy. However, that hard work was undone when he took too much speed into the hard-braking Turn 12 when he was off-line alongside Perez, sending him off the circuit and allowing the Mexican back through into second as well as teammate Vettel to pinch the final step on the podium. That corner aside, it truly was a phenomenal drive from the Monegasque.
5. Pierre Gasly (AlphaTauri) – down one
Gasly has slipped down the championship standings to 10th after two troublesome weekends, having landed a grid penalty when his team inexplicably stripped down his power unit following qualifying despite there being no clear issue. That said, the car did not appear to have the pace to challenge in Istanbul, and he'll hope for better at Bahrain.
4. Sergio Perez (Racing Point) – up two
Perez is making a powerful case to remain on the grid next season. He had to play second-fiddle to Stroll in qualifying, although pole could easily have been his had he not spoilt his final lap, and he made his tyres last as we have seen so many times before to take a career-best second place, equalling his previous best at the 2012 Malaysian Grand Prix. Rather impressively, Perez has finished inside the top 10 in every race he has started this season.
3. Valtteri Bottas (Mercedes) – down one
Bottas could not escape dropping down the rankings following such a disastrous weekend really. With his faint championship hopes on the line, Bottas was roundly beaten by Hamilton in qualifying as he could only manage ninth position, and it only got worse from there as he spun an unbelievable six times on his way to a hugely disappointing 14th-place finish.
2. Max Verstappen (Red Bull) – up one
Verstappen came up with two rather uncharacteristic errors and was lucky to get away with the first when he spun at high speed during an unnecessary overtake attempt on Perez, but he also showed fantastic pace to get back into the fight at the front. A disappointing race day, but the pace was there to succeed in the dry and he certainly made it entertaining to watch.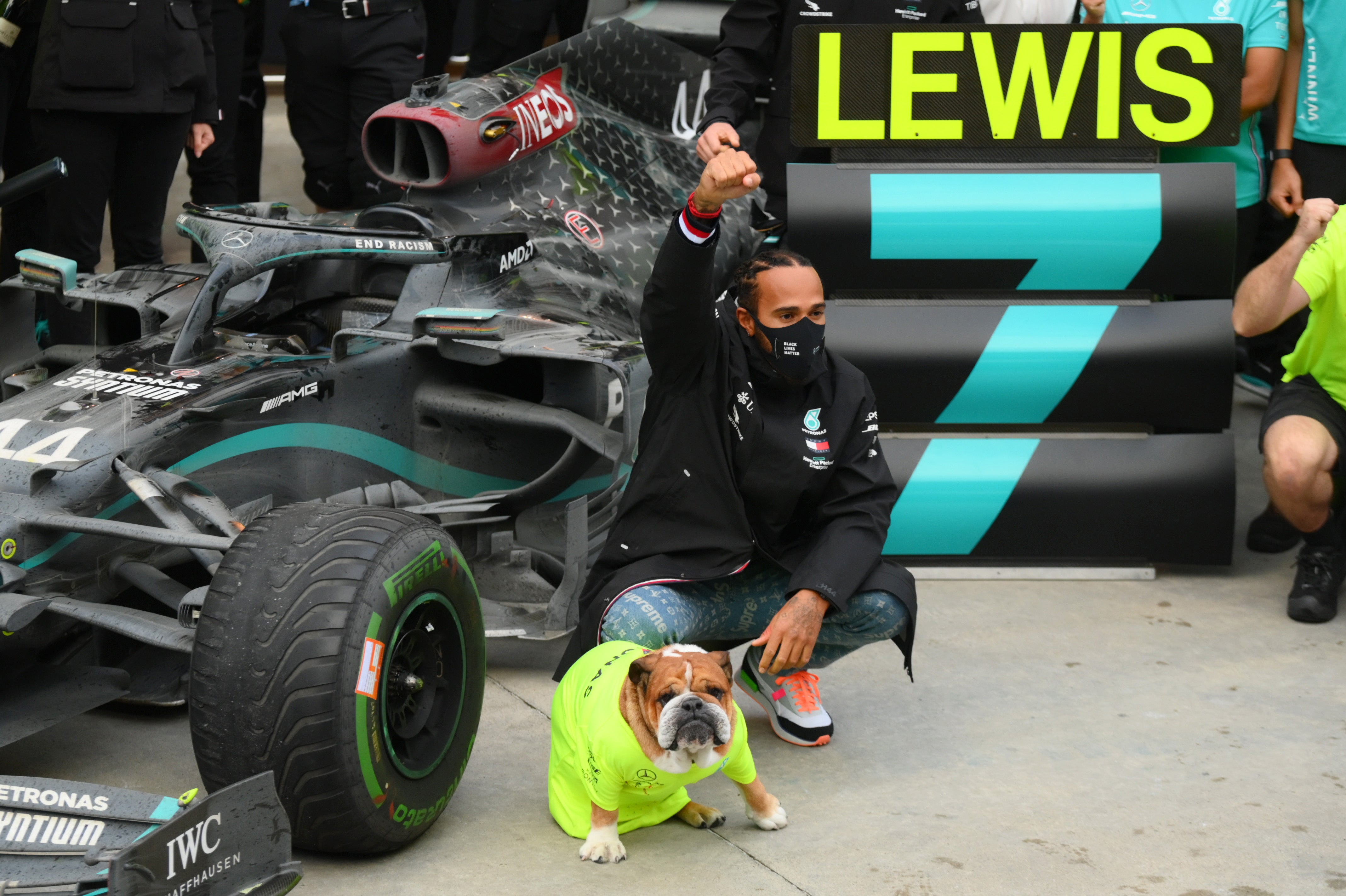 1. Lewis Hamilton (Mercedes) – no move
What more can you say? A fourth consecutive victory, his 10th of the season and possibly the best performance of the season to overcome his early struggles and obliterate the field by more than 30 seconds. A seventh world championship is the very least his efforts have deserved this season as he remains in a class of his own.
Source: Read Full Article