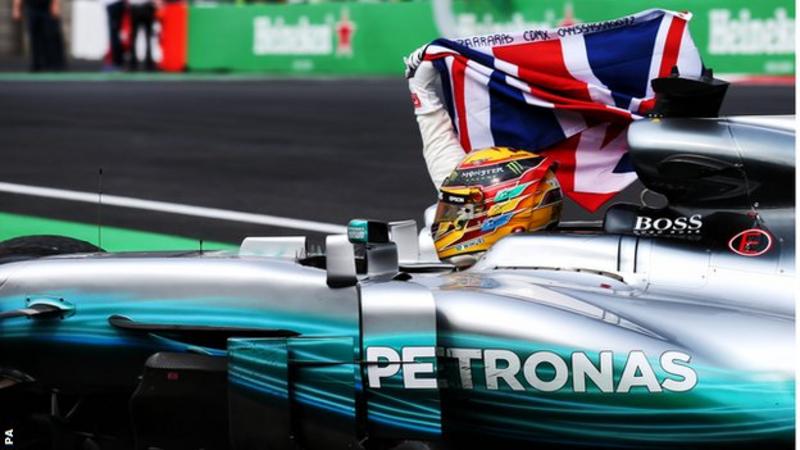 Lewis Hamilton wants to tie up his fifth world title with a victory in Sunday's Mexican Grand Prix despite needing only seventh place.
Hamilton is 70 points ahead of Ferrari's Sebastian Vettel with only 75 available in the final three races.
Hamilton said: "It's an added bonus to an already great year when you do win the race to get the title. My goal is to try to win the race this weekend."
Last year, Hamilton clinched the title in Mexico with a ninth-place finish.
But Hamilton said he wanted to bounce back from a "difficult" race in the US last weekend, when he finished third after starting on pole position.
"You are in a different place each time you get an opportunity to win it. Each is special in its own way. Just winning the title has always been the goal.
"The first one felt incredibly hard [to win] but from then on it's got harder and harder.
"I would say this one has been one of my most enjoyable years with the things I've been faced with so if I were to win the title it would be one I would probably be most proud of and be able to appreciate most – just being older and that's what happens when you get older I guess."
Can Hamilton deliver a Mexico title fiesta?
Why is Vettel making so many mistakes?
Which three drivers will make the podium in Mexico?
How Lewis Hamilton failed to clinch title in Austin
Nothing left to achieve in Formula 1 – Alonso
Austin problems explained
Hamilton revealed that his struggles in the race last weekend in Austin, Texas, were partly caused by the team making an error in the set-up of both Mercedes cars when they put them back together after changing their water pumps before the race.
"They took the car apart and when they put it back together, it was imbalanced, with a massive cross-weight, in the order of 50kg," he said. "So the right front and left rear take all the weight and the car would not turn through the left-hand corners.
"It felt very strange out there. I thought I had a massive tail wind or something when I was going through places like Turn 19.
"But the right-handers it was better, but there are not a lot of right-handers at that track. If we had not had that problem, it would have been a much different race."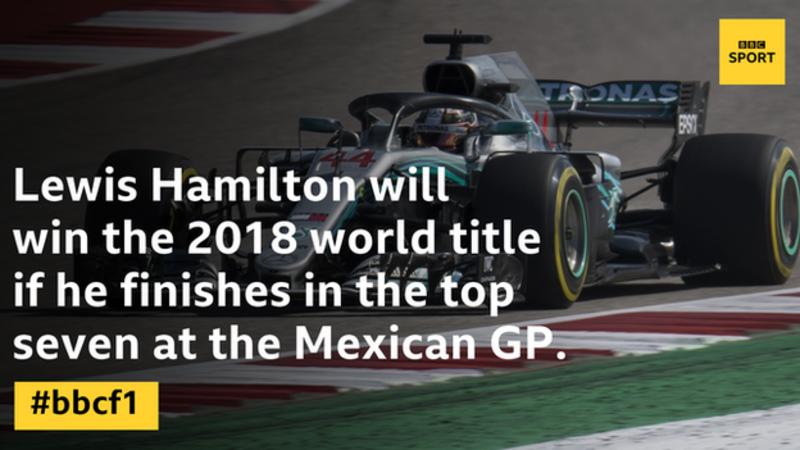 Vettel analyses his mistakes
Vettel's title challenge has faded as a result of a series of errors, which are part of the reason Hamilton has been able to build such a big lead.
The German made the latest in Austin last weekend, spinning while racing side-by-side with Red Bull's Daniel Ricciardo – the third time in five races he has lost control when alongside another car on the inside of a corner.
Vettel described the spins as "weird" and said he had begun to wonder whether the Ferrari car had an aerodynamic weakness in such situations.
"Maybe I need to try the outside next time, maybe I don't spin," he said.
"Obviously you want to have the inside to the corner, that doesn't change. But I don't know. The closer you are to another car, you lose some downforce, and obviously the spins I had were all quite weird because there was not much I could have done [differently].
"It is not like I had gone in too fast or would have spun on my own at that speed, not at all. So I guess there must be some sort of hole or something being on the inside of another car in that position. Obviously on all three occasions I wasn't clearly ahead, at best side-by-side.
"The cars are very complex. It is not very easy. It is not always easy to understand everything straight away. We haven't yet understood everything, which is also normal."
He said he accepted that the criticism he has received was "fair", adding: "I spun. If you are the one spinning, then obviously something didn't go right.
"The main thing is that fundamentally I didn't try to do anything silly or stupid. I wasn't hard-headed trying to do something that would never work.
"Obviously now it has happened a couple of times too much. So next time there will be a gap, I am sure I will go for a gap, but surely it is in the back of your head trying to keep the car facing the right direction."
As to whether he felt he had lost the championship or Hamilton won it, Vettel said: "You should always look at it as a championship won by the driver who has scored more points than anybody else.
"Arriving here with the deficit in points we have… Surely we could have had more. But are the end of the day you need to ask yourself whether you have always been in a position to get the result you needed or wanted.
"We had races where we were very competitive but also races where we were not. In the end of the season, you look at the points and add them up and know yourself first what has been missing or not."
Hamilton defended Vettel, saying: "He has been a great competitor this year and it has been so hard for both of us and I thoroughly enjoy racing with him and I am looking forward to hopefully many more years of racing and competing together right at the top."
How to follow on BBC Sport
BBC Sport has live coverage of all the season's races on BBC Radio 5 live and BBC Radio 5 live sports extra, plus live online commentary on the BBC Sport website and mobile app – including audience interaction, expert analysis, debate, voting, features, interviews and video content.
Times BST until Sunday, 28 October when GMT begins. Broadcast times are subject to change at short notice.
Source: Read Full Article