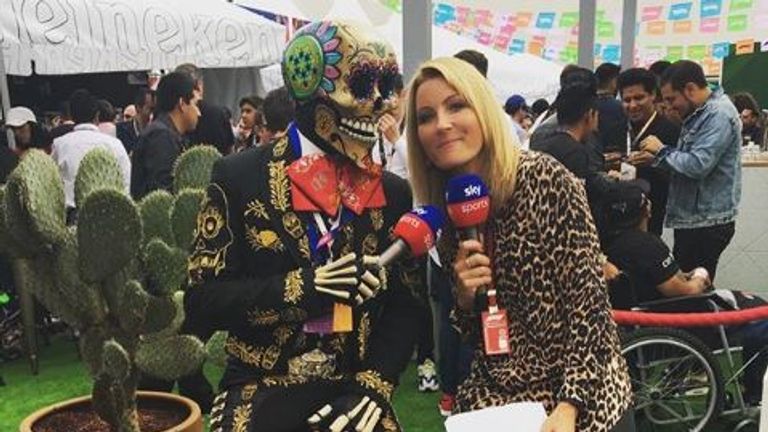 Mexico is fast becoming a firm favourite on the F1 calendar. Every year the city seems to get livelier and the paddock more colourful. 
On Thursday, I presented Welcome to the Weekend from halfway down the paddock where a bar and various food stalls had been set up. Just before I went on air one of our crew brought some ice creams over from the gelato stand. It was a hot day and we all tucked in before realising it was tequila ice cream!
Mine was put aside as Crofty and Ted are hard to control at the best of times, so I can only imagine how difficult it would be if I had had tequila first!
There was also a barbers to encourage the guys in the paddock to get behind Movember and a lot of them are taking up the challenge. It should make for some interesting sights in Brazil and Abu Dhabi, although you may have noticed some decided to get a head start for fear of not having an impressive enough moustache come the final race.
Nice to be back in the sunshine! #welcometotheweekend #skyf1 #f1 #formulaone #mexico #autodromohermanosrodriguez #nojacketrequired #paddocklife #lovemyjob
A post shared by rachelbrookes (@rachelbrookes) on
Just before the show started the two Red Bull drivers were attacking Piñatas. Daniel Ricciardo had more reason to get some aggression out and his karate kicks showed just that as he took out his Austin frustration on the paper mache version of himself.
For the second half of the show we moved into the stadium section of the track and while they may not be the most exciting corners in F1 but you can't help being caught up in the atmosphere when you are in there. It may not have been full of fans on Thursday but that didn't stop the drivers doing their track walks stopping to take photos.
While we were on air Sebastian Vettel and Sergio Perez walked past and almost all the drivers walked the track at some point in the day. Johnny and I went back there twice over the weekend, once just before qualifying and once just before the race. The atmosphere is phenomenal and should be on fans' bucket list even if it's just for the podium celebrations and party post-race.
Sky F1's live Brazilian GP schedule
F1 championship turning points
On Thursday evening we went to dinner with the Mercedes communications team. They had taken us out in Canada and so we were returning the favour. It happens with a lot of the teams and is a really nice way to talk anything but F1 with people you see almost as much of, if not more of, than your own family. We had booked a restaurant in a hotel in the city and as we arrived Ricciardo was arriving back from the track laden with gifts from fans.
It's the hotel most of the drivers stay at and has plenty of security. Mexico has so much going for it but it is also a dangerous place to be if you have an assumed value to criminals. The drivers are given a police escort to and from the track every day and they are driven in armour-plated cars. Some have even more security than that to protect from potential kidnappings, but for most of us it is just a case of being vigilant and not wearing any jewellery.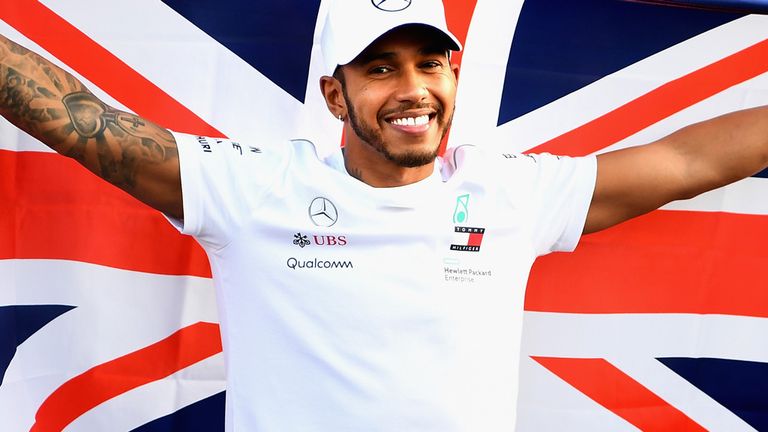 Friday's running was confusing to a lot of people in the paddock. Renault ran in the top five in both sessions while Mercedes seemed to be struggling. Ferrari were off the pace too though so it looked like the title would be decided in Mexico no matter what as Vettel had to win the race to even stand half a chance of the battle going to Brazil.
Post practice, Sebastian was in a mischievous mood and as I stood in the scrum at the back of their garage waiting to talk to him he answered questions to Formula 1's reporter first. "How was the running today?" he was asked. "Slippy" he replied. His second question was along the lines of 'What are you hoping for from the rest of the weekend?' Which again was met with a single word answer. "Grip," came the response.
I followed that interaction and luckily he opened up a bit more but it just shows that it doesn't matter who Seb is talking to, sometimes he is just in one of those moods. Nico Hulkenberg proved just as mischievous on Sunday when he told me he was hoping to make his hypersoft tyres last the entire race. "Good luck with THAT!" I replied knowing he was joking but also aware how that might come across to some who don't know his sense of humour as well as I do.
We finish a bit earlier on Fridays in Texas and Mexico and that meant there was time for a gym session before meeting for dinner. We talk about the altitude in Mexico a lot in terms of the effects on the engines but until you try and do your usual workout you don't really appreciate how much it affects you. Let's just say my time on the treadmill was a lot shorter in Mexico than it was in Texas and from looking at my Fitbit afterwards I was in peak heart rate the whole time!
You can only imagine how much the air effects the fragile Formula 1 engines and how nervous the teams must be as they pound around at altitude for 78 laps.
Flowers? For me? #mexico #mexicogp #diadelosmuertos #iflookscouldkill #streetart #skyf1 #f1 #paddocklife #lovemyjob #instatravel
A post shared by rachelbrookes (@rachelbrookes) on
On Saturday morning I had to record a link to go into a piece about the Porsche Supercup that would be used on Sunday. We have introduced a couple of races live this year and as this was the final round we were showing the final race live on Sunday morning.
Once the link was recorded it was a quick change and into the paddock to be on hand should anything happen in Practice Three. First Kevin Magnussen stopped running and I went to see if he would speak to me. He said yes straight away and I did a brief interview with him outside the hospitality. Unfortunately he swore in it which is always tricky, but something we are always acutely aware could happen when a driver is frustrated at not running. I apologised for it and we carried on before I thanked him for the interview and left.
Then as I was writing some notes in Williams hospitality while watching the end of the session, Valtteri Bottas suddenly stopped on track in the stadium section. The gate to the stadium section is at the end of the paddock so I knew he would be heading back to Mercedes garage that way so grabbed my things and went down the paddock to where he would come through.
Instinctively I had picked up my bag too and only realised as I waited for Valtteri to come through. I radioed to our floor manager to ask if anyone was around to grab it off me as it wasn't safe to leave it lying around on the ground but before they had a chance to help me out Valtteri was there. I asked him if he would talk and he said yes so I started asking questions. At that point the Formula 1 camera started showing the shot on the world feed and everyone could see me interview Valtteri while carrying a large bag in my left hand! Even if my cameraman had managed to frame out the bag, it was too late now.
The F1 Show on Saturday evening was great fun. We had Fermin Lacalaca on who is the man dressed as a Day of the Dead character who is always in the Mexico paddock. He speaks good English luckily and he agreed to be part of our show. I won't say anymore but if you saw it, you should know that all our crew were in hysterics and my view was of several people clutching their stomachs and laughing while I tried very hard to keep a straight face!
Found my self a new co-host… sorry Johnny! Thanks for joining us @ferminlacalaca #mexico #mexicogp #paddocklife #skyf1 #f1 #autodromohermanosrodriguez #f1show #diadelosmuertos ? @sosandar
A post shared by rachelbrookes (@rachelbrookes) on
On Sunday morning I presented the opening to the Porsche Supercup title deciding race and had to do my very own grid walk. The drivers were all in their cars ready to go and three of them were still battling for the drivers' title. I started at P4 and interview Brit Nick Yelloly through his helmet before moving forward. Thomas Preining was in P3 and as I arrived he was getting last minute instructions from his engineer. I had our directors assistant in London counting me down in my ear, (I had three and a half minutes to fill with ad libbing which is longer than you think if you try it) and I had mentally timed each interview in my head.
As I waited I remembered countless grid walks for Martin Brundle and what he does when someone is not ready to talk, so reeled off a few bits of information I had stored away while I waited for his engineer to finish. The final chat was with the polesitter and championship leader Michael Ammermüller and once that was finished I had around 20 seconds to talk and then to stop talking at the precise moment the World Feed would come in, as opposed to the anthem which Martin Brundle has to stop for.
It may have only been a very short, non-F1, grid walk but I loved it all the same and can see why Martin enjoys it so much. I was lucky, though, I knew who I wanted to talk to in advance and as such it was much easier than what he has to do which is a huge unknown where anything could happen. Plus I wasn't competing with anyone else for interviews and essentially had the whole grid to myself.
After that I dashed back to get my radio kit on to be ready for the live link in the stadium section at the start of our show. From there it was back down to the track to do some interviews during the driver parade. While I waited to speak to Ricciardo I noticed him typing his number into Vettel's phone. Then the drivers came out and I started the interviews, pole sitter Daniel first then onto Sergio Perez, Fernando Alonso, Valtteri Bottas and as many as I could manage before the classic cars pulled away.
Always have to have a pic in the stadium section! Race day in Mexico! #skyf1 #formulaone #f1 #mexicogp #paddocklife #autodromohermanosrodriguez
A post shared by rachelbrookes (@rachelbrookes) on
After that it was into the paddock and I popped into Williams hospitality to grab some water before the pit lane opened. I was due to be interviewing Christian Horner so didn't have long and very kindly the chef in Williams made me a sandwich to keep with me until I had a chance to eat something later. There is no time to sit down and eat lunch on a Sunday unless I eat at 10.30am in the morning and on this occasion that was during the Porsche Supercup.
Interview with Christian done it was time for the toilet run interviews. I picked off as many drivers as I could and then made my way to the media centre to try and see the start of the race, and eat my sandwich, but no sooner had I sat down than Fernando Alonso retired. I went down to the interview pen and waited for him to arrive. It was a steady stream of retirements unfortunately so I spent the entire race in the pen. Drivers who have retired sometimes come to the pen immediately, sometimes they need time to cool off, but either way I need to be there as soon as the car stops just in case.
Ricciardo didn't arrive until a while after his retirement and was clearly very angry still. I was told to ask only one question because he didn't want to be there and I totally understand it. He later went on to say that Pierre Gasly could get in the car now if he wants as Daniel thinks the car is cursed but has since retracted that in his social media. I really hope Daniel gets to finish a race for Red Bull before he leaves, and hopefully on the podium so he can get a decent send off.
Ricciardo commits to final Red Bull races
After the race while the podium celebrations started a sprinting Lewis Hamilton came past us and ran into the Mercedes garage to see his team. His celebrations in the stadium section over, he wanted to see his team before anything else. Then he came into the pen to do his post-race interviews.
He was clearly emotional and so he should be. I remember his first championship and couldn't have imagined then he would win five, so how must he feel? After that came the top three and what is always the most difficult interview, with the guy that has lost the championship. Sebastian was good under the circumstances and gave credit to Lewis. It's been hard to see his demeanour change over the last few races and to think that but for those updates that didn't work from Singapore to Russia, he might still be in this fight. Especially as the Mercedes seemed to struggle at the last two races.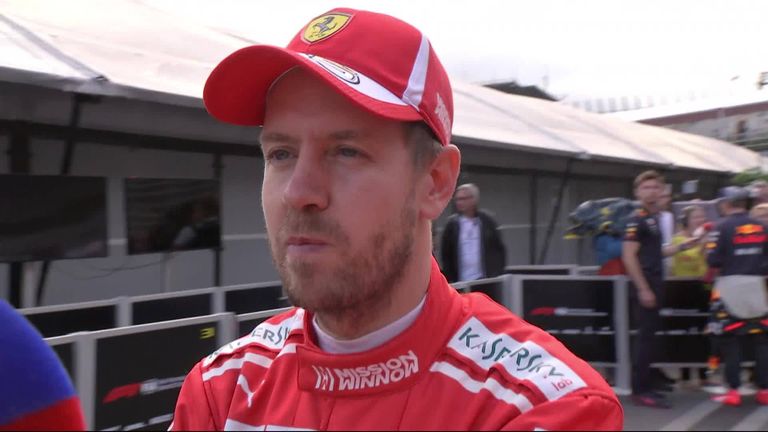 It must feel like a huge 'what if' for Seb but hopefully bodes well for 2019 that lessons have been learned and we will see it go to the wire next time. It was a very classy moment when a short time later Seb walked into the Mercedes garage and went to shake hands with the engineers and congratulate them. He has been so dignified despite his obvious disappointment and frustrations and has, I think, gained a lot of fans.
Let's hope battle resumes in Melbourne, and maybe throw in Max into the mix as well?
RB
WATCH: At home with Sergio Perez in Mexico
https://youtube.com/watch?v=0mxKt0cR0RA%3Ffeature%3Doembed
https://youtube.com/watch?v=0S3B_4SQ3xw%3Ffeature%3Doembed
Sky Sports F1 is the only place to watch every Formula 1 Grand Prix, qualifying and practice session live in 2018. Get Sky Sports F1.
Source: Read Full Article