Leading AFL player agents have backed calls for a mid-season trade period, declaring it could help fast-track a club's rebuild or spear a side into immediate finals or flag contention.
The end-of-season trade period has become one of the most important – and most publicised – events on the football calendar, and a mid-season addition has been discussed by the league's football operations department.
The mid-season draft, introduced in 2019, has given players an added opportunity to join a list – Hawthorn's Jai Newcombe has been one of the great success stories – and AFL Players Association president Patrick Dangerfield has publicly backed a second trade period.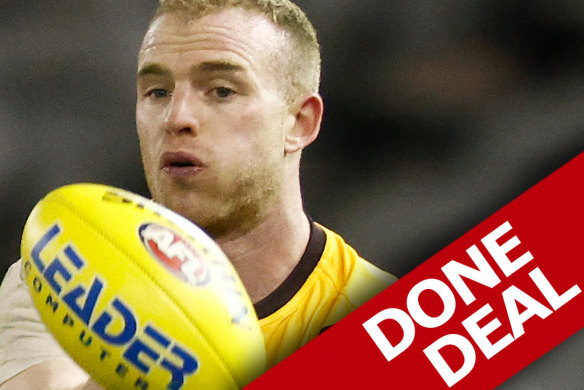 Tom Mitchell joined Collingwood on the last day of the trade period in October. Could he have switched clubs mid-season if that had been possible?Credit:The Age
Last year's trade period was notable for Gold Coast's salary dump of Jack Bowes, who landed with Geelong, along with the Suns' pick No.7 in the national draft. Agents believe a mid-season trade period would encourage more such unconventional decisions.
Leading player agent Colin Young, of Corporate Sports Australia, said a mid-season trade period offered several possibilities.
"If there is going to be mid-season trading, you already know what clubs missed out on during the [October] trade period, and what clubs might be looking for in the next trade period, so you discuss it with your player. Hypothetically, the Adelaide Crows might be looking for a key backman – would you go there? All parties agree," Young told The Age.
How a mid-season trade period could work
Held during the bye period. Could be open for three days, no longer than a week.

Clubs struggling could make their first moves towards fast-tracking a rebuild, whether snapping up a player, or exiting a player for draft picks. For instance, the rebuilding Hawks have fallen short in securing the talent they have wanted over the past two seasons. A mid-year deal could help them secure a disgruntled blue-chip player.

Clubs in the finals or premiership window may be willing to pay a premium for a player, particularly if they want to replace a key injured player out for the rest of the season. For instance, if Rhys Stanley was hurt, would the Cats consider a ruck replacement?
"It's not going to be an issue halfway through the year changing clubs. You probably would think it would be good for a club looking for a position to play in the finals, or they are close to the finals, or they are short [of a particular player] and they are in the finals, or a club that is rebuilding offloads some salary cap, that sort of stuff.
"I remember talking to an NFL general manager, the Minnesota Vikings [general manager], he said that they use it [mid-season trades] for a bit of a dump in salary, or they move players around if they don't think they have got a shot. It all works."
Young's player agent partner Andrew McDougall, a former West Coast Eagle and Western Bulldog, suggested the AFL could limit the number of players a club could trade, or even the type of player. The league would also need to clarify rules around the salary cap.
"I would be backing a mid-season [trade period], definitely, even if it was capped at a certain number of players, or a certain type of player, especially ruckmen. If a ruckman goes down in round one or two, you can actually have a mid-season trade, and trade a ruckman, and really lift a whole team. I think specialised spots might work really well, or capped numbers. Say two players per club," McDougall said.
"Normally, you have a specific need to start with, and then it might open up into more trades and be bigger like it is at the end of the year.
"In American sports, they tend to be trading players quite regularly, in the NBA, and also baseball. It's just a natural progression."
That was highlighted earlier this month in the NBA when superstars Kevin Durant and Kyrie Irving were traded by the Brooklyn Nets. Durant, arguably the league's best player, was traded to the Phoenix Suns, while Irving was sent to the Dallas Mavericks.
Kyrie Irving was involved in a blockbuster mid-season NBA trade from Brooklyn to Dallas.Credit:Getty Images
Supporter interest in AFL trades, highlighted through the online data of major media outlets, including The Age, and Trade Radio, reaches fever pitch through October, and has sparked two seasons of Show Me The Money documentaries on Stan.
Clubs, however, have privately expressed concern about a loss of in-season intellectual property, for instance, divulging game plans, particularly if a player is traded to a club in finals or premiership contention. Clubs in finals contention may be nervous at the thought of aiding a rival club – in any manner – that is also in finals contention. But clubs admit they and player agents are often already in discussions about potential trades come June and July, so fast-tracking this could make sense.
While a club's final draft selections would not be known, clubs could agree in principle to, for instance, a first- or second-round selection. There could also be a direct player-for-player trade.
Dave Trotter, a leading agent with Hemisphere Management, said a mid-season trade period could aid clubs in any position on the ladder.
"Not only for the players, it gives them a bit of a chance to move, but there are a lot of clubs out there, you get to a halfway point of the year, and they haven't won many games – it's a bit of a long grind," Trotter said.
"Anything that can help a struggling club improve quicker, I think it's only going to be good for the competition. Clubs can improve their list earlier, rather than wait until the [post-season] trade period."
Trotter said the league could consider allowing clubs to trade selections up to three years in advance. As it stands, clubs can use selections they have in the current year and following year's national drafts.
"They have now gone to two years you can trade in advance, whether they open it up to three, like the NFL and American sports … we'll see," he said.
Keep up to date with the best AFL coverage in the country. Sign up for the Real Footy newsletter.
Most Viewed in Sport
From our partners
Source: Read Full Article