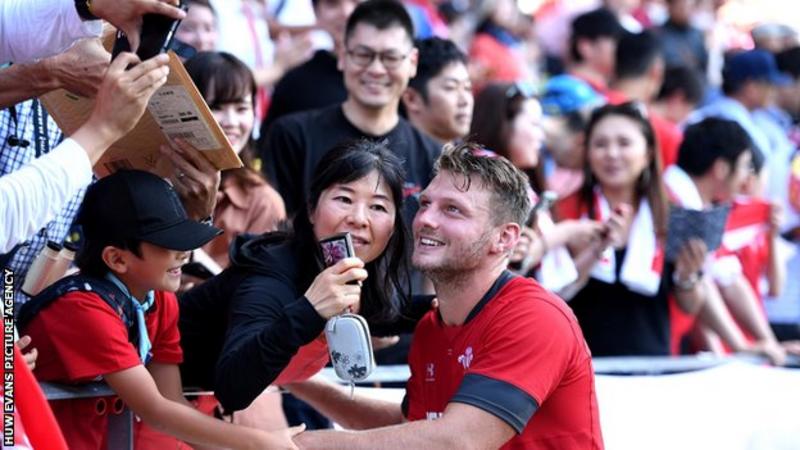 A crowd of more than 15,000 people watched Wales' first training session in Japan for the Rugby World Cup.
Queues stretching more than a kilometre began building up three hours before the open run-out at Kitakyushu Stadium.
The local population have clearly embraced the Wales team, singing the Welsh national anthem and the hymn Calon Lân as Warren Gatland's squad undertook their first work out.
Wales' opening match in Pool D is against Georgia on 23 September.
The Welsh Rugby Union has sent several delegations to the Japanese city over the last 18 months, led by former Wales skipper Ryan Jones. They have been running coaching courses and building awareness.
Rugby World Cup organisers said the crowd of 15,300 was the largest ever at the Kitakyushu Stadium and Jones was overwhelmed: "I've never experienced anything like this in my career. It's astonishing and it's been really emotional.
"It's been like hosting a party," he said. "We got up this morning and we were saying 'oh, I hope it goes well today and people will turn up'. Then to see the queues and then to see the players' faces when they came out, it was just magic.
Baby oil on rugby balls? Wales do it to combat humidity
Wales' Adam Beard and Cory Hill out of Georgia match
Quiz: Can you name Wales' first-ever World Cup team?
"It has exceeded all our expectations. But what has really warmed my heart is that it has shown how really strong the brand of Welsh rugby is. People know it's us, they love the colour red, but also how powerful rugby is.
"The dream was to turn the city red and we've done that. They weren't a host city and we wanted to bring the Rugby World Cup to them.
"It's great as the guys are one week out from our first game and to have an experience like this bring it home how amazing an event it is. It will give the players a huge lift."
Watch Eddie Butler's Rugby World Cup preview, BBC One Wales, Monday, 16 September, 20:30 BST and later on demand.
Pick your Wales XV to play Georgia
Pick your players from the list below
Can't see this selector? Visit this page: Pick your Wales XV to play Georgia
All pictures via Huw Evans Images.
Source: Read Full Article