Follow all the latest news ahead of England's last 16 tie with Germany this afternoon at Euro 2020 with Ukraine and Sweden meeting this evening in Glasgow.
Switzerland stunned the world champions France on Monday evening with Kylian Mbappe missing the decisive penalty to cap a poor tournament by the PSG superstar's standards.
The Swiss are joined in the last eight by Spain, who won an eight-goal thriller over Croatia after extra-time with Alvaro Morata producing for La Roja.
Gareth Southgate's side face their moment of destiny at Wembley today though, with their group stage opponents Czech Republic, already in the quarter-finals, and Croatia showing that the recent performances might have been better than the initial reactions. Germany have endured mixed results but came through a tough group and will also expect to advance.
Follow all the latest news from the tournament as we build up to today's round of 16 games:
Recommended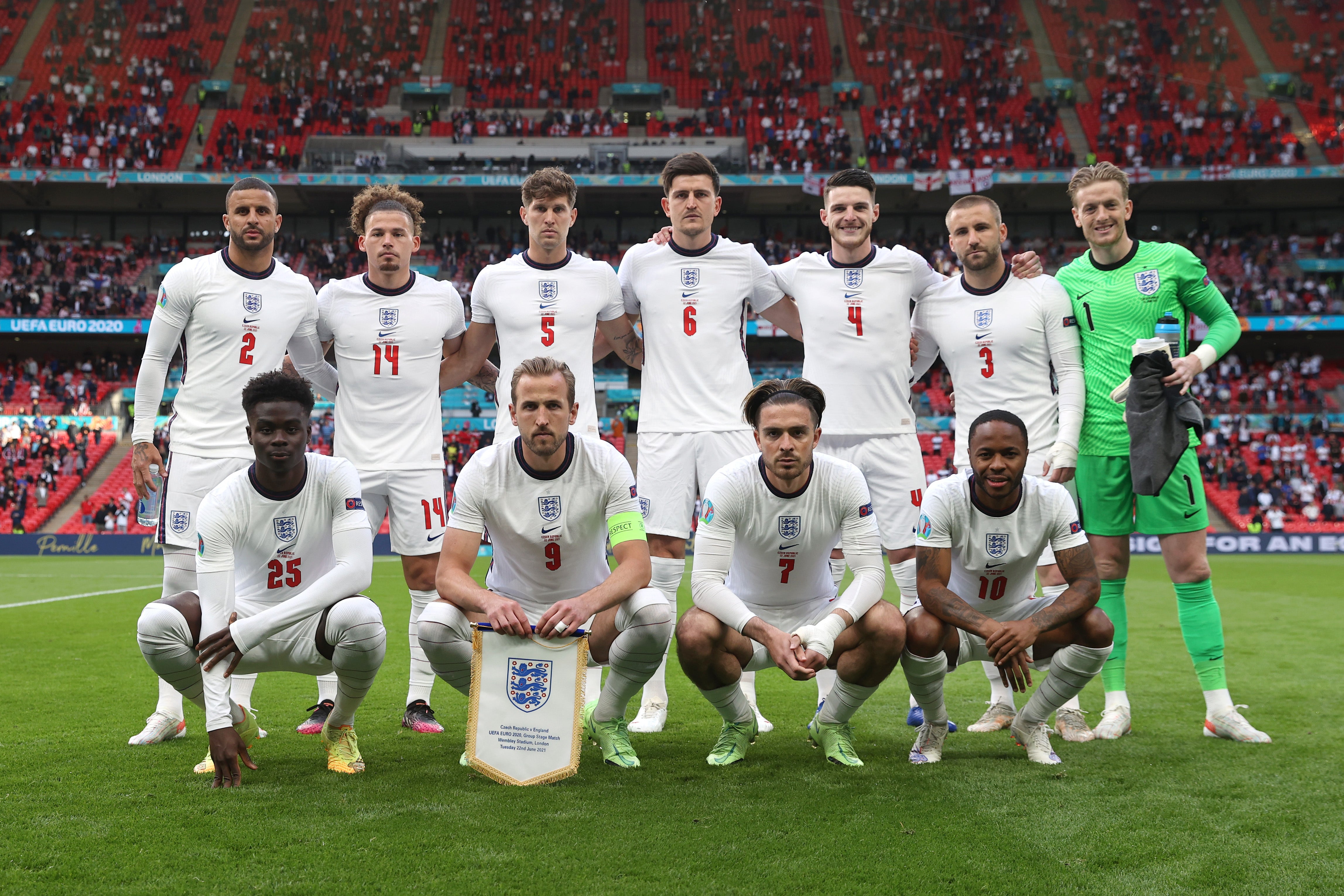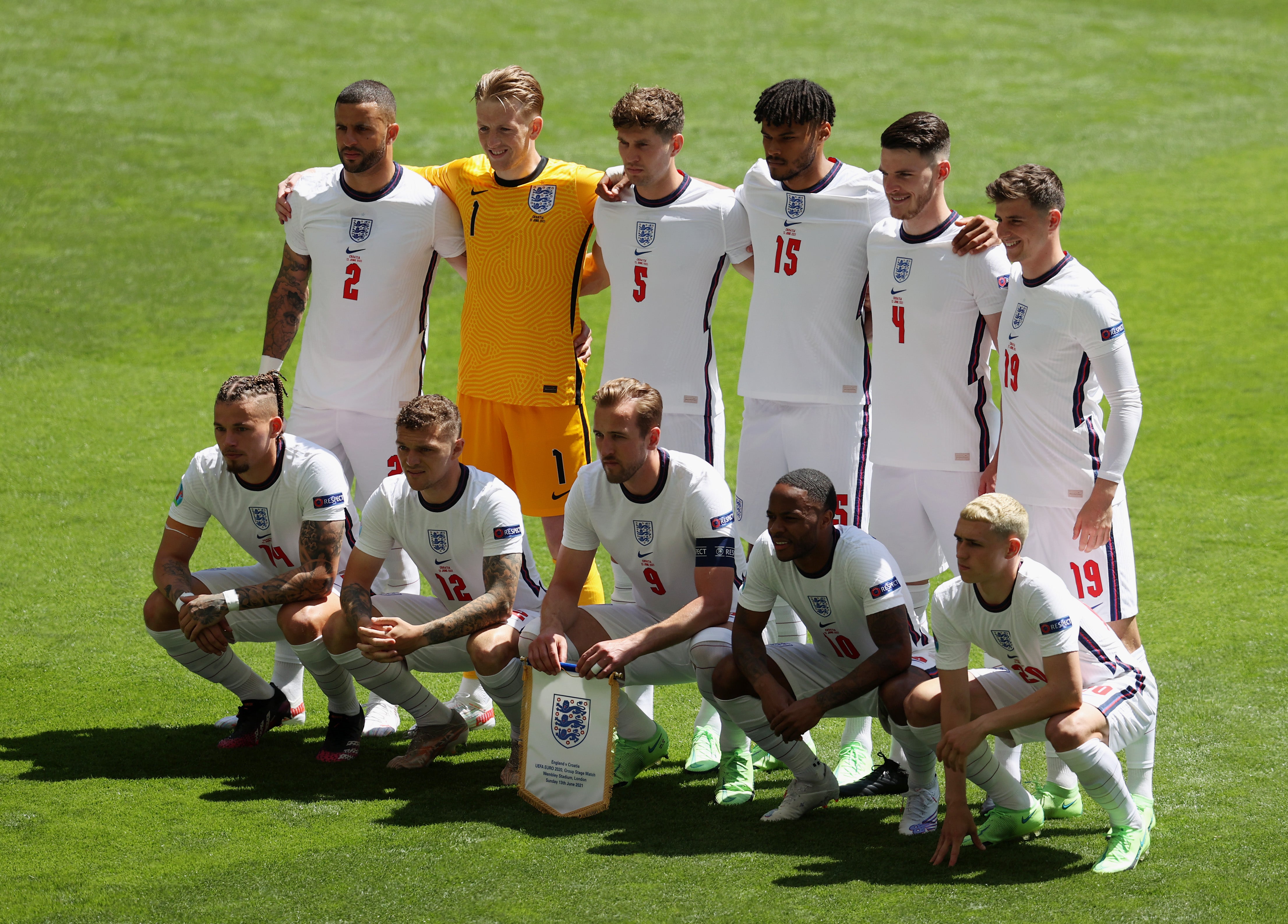 Youthful England will not feel the weight of history in seismic showdown with Germany
In the England camp, there are no nerves, or trepidation.
"It is just more excitement," Luke Shaw explains. "We've been saying we wish the game was sooner."
The players are eager for this last-16 match to start. Whether they're ready for it is a different issue, and probably the biggest question going into this grand rematch with Germany.
A game like this has been a long time coming. That means more than the week since the last group game against Czech Republic, the 11 years since a tournament match with Germany, or even the 25 years since we saw a game of this magnitude on English soil.
It is three years since the team's last sudden-death knockout match, or any kind of game of true consequence. These players have of course played many such games for their clubs, but very few as a group.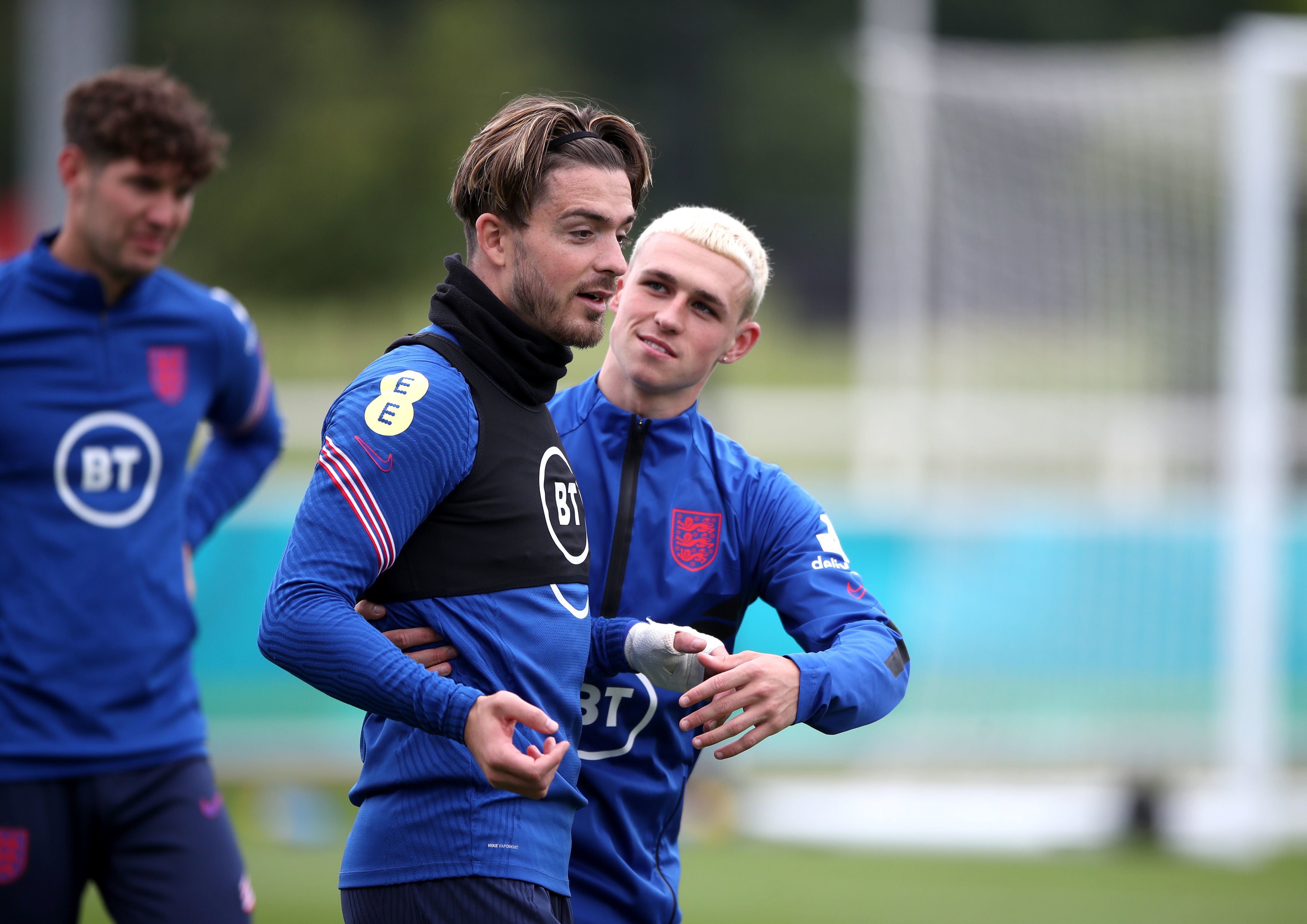 Youthful England will not feel the weight of history in showdown with Germany
Gareth Southgate joked his players don't know Winston Churchill, but references to 1996 and their manager's penalty miss are almost as irrelevant as references to real history
Last day of Round of 16 at Euro 2020
Tuesday marks the last day of the last 16 at Euro 2020 and what a knock-out round it has been!
While it only started on Saturday, the amount of shocks and goals has made it feel like weeks of amazing football action.
So far Wales were defeated 4-0 by Denmark, Italy dispatched of Austria 2-1, the Netherlands bowed out after losing 2-0 to the Czech Republic, Belgium knocked out Euro holders Portugal 1-0, Spain managed to get past Croatia in a spectacular 5-3 win and the favourites to win France were defeated by Switzerland on penalties.
And now it's England's turn…
They will face rivals Germany this evening but it isn't the only game on as Sweden take on Ukraine.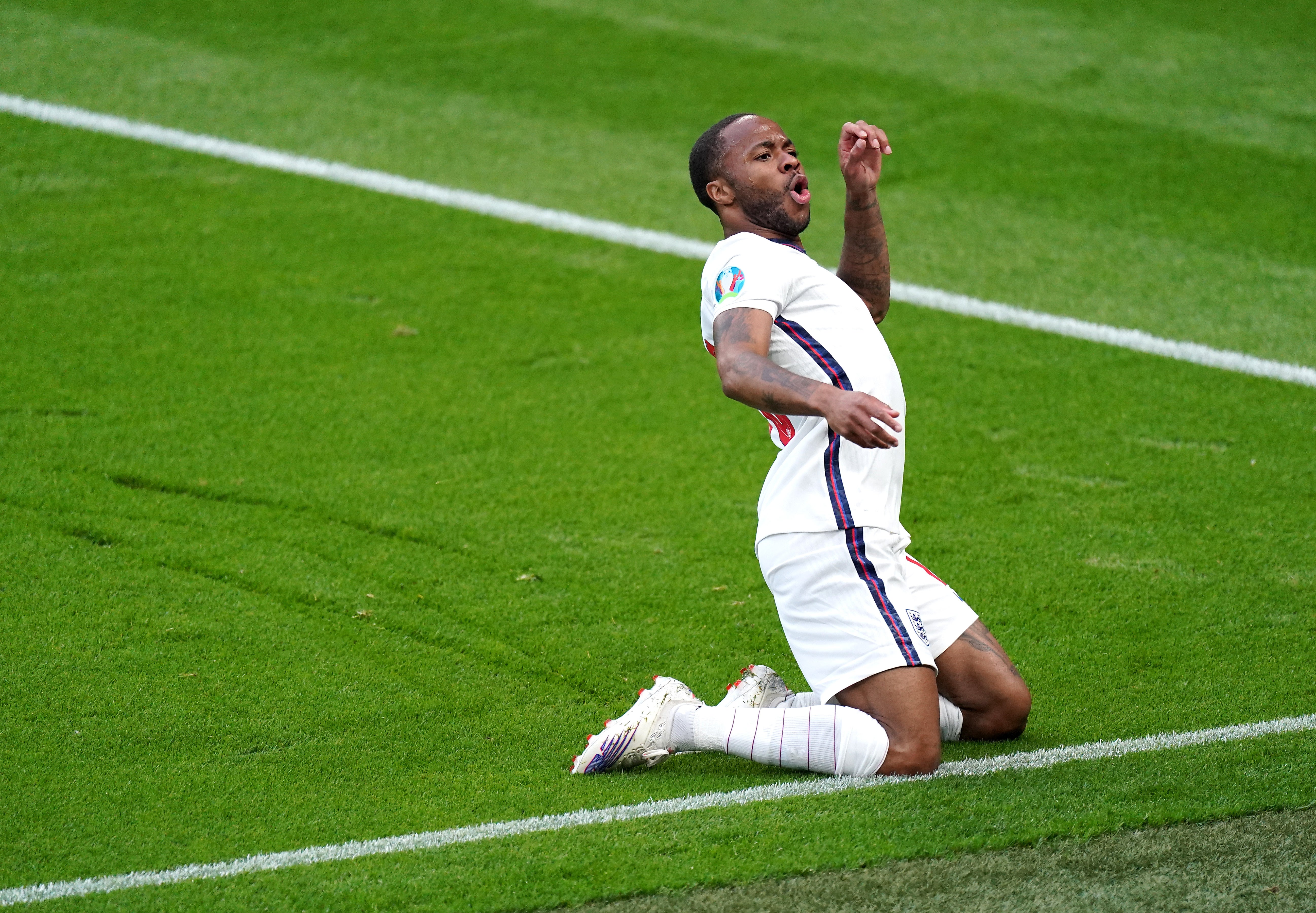 England captain Kane to wear rainbow armband against Germany
Harry Kane wants to try and "kick out all inequalities" after it was announced he would wear a rainbow captain's armband for England's Euro 2020 last-16 clash with Germany at Wembley.
The England skipper's opposite number, Manuel Neuer has worn the armband in every match his side have played in June in honour of Pride Month.
The Germany goalkeeper first wore the rainbow armband against Latvia on June 7 and then during his country's three group matches against France, Portugal and Hungary.
Kane will now follow suit as England aim to show solidarity with their old rivals.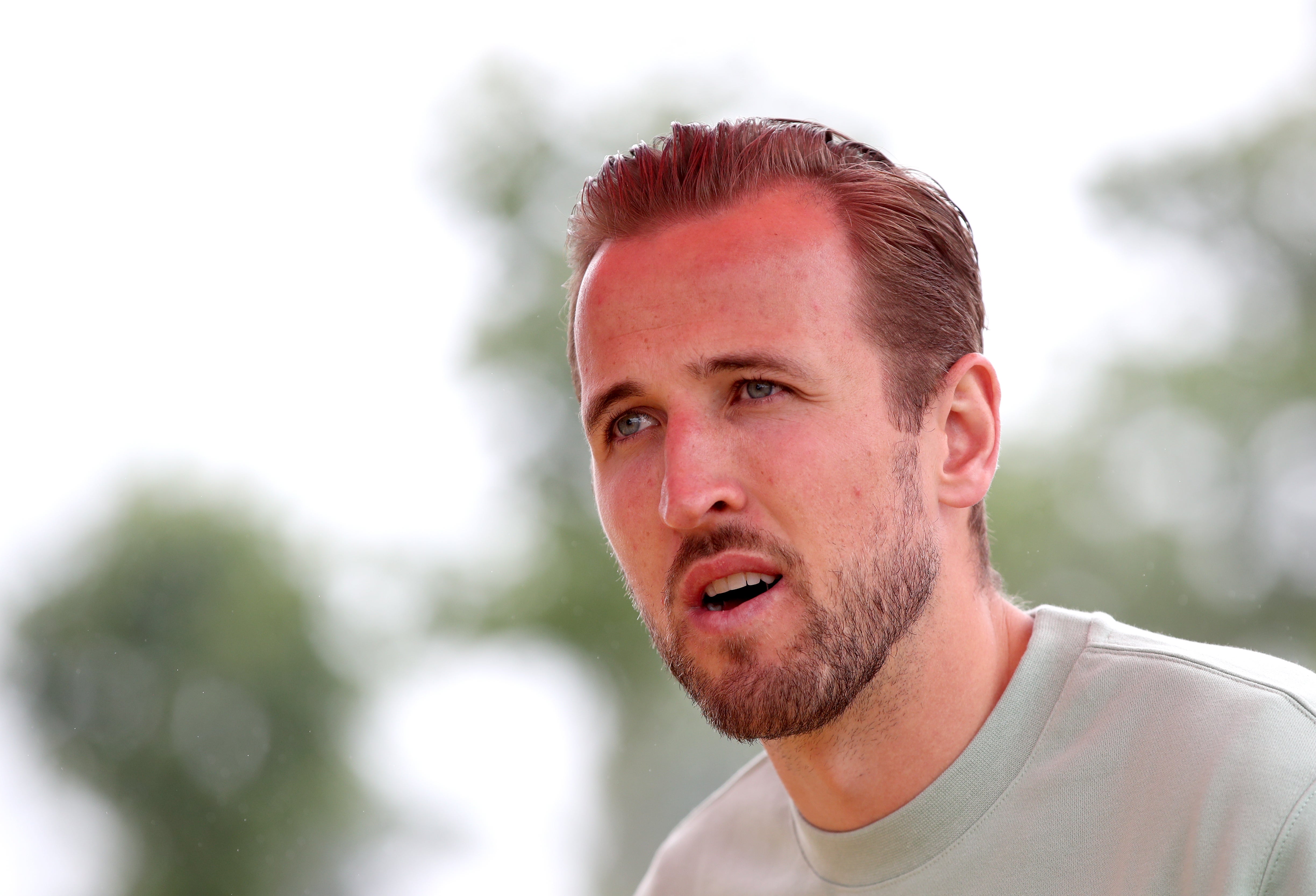 England captain Harry Kane to wear rainbow armband against Germany
Solidarity and equality the message from the Three Lions
Croatia vs Spain player ratings
Spain are through to the quarter-finals of Euro 2020 after edging a thrilling encounter with Croatia, winning 5-3 after a brilliant 120 minutes of action.
The match was a back-and-forth affair almost throughout the encounter, the most open of the round of 16 games so far by a distance. Early on it was mostly Spain possession and pressure with Croatia counter-attacks, with both nations having success in their own way – before the Croats roared back late on and in extra time.
After Alvaro Morata and Koke had spurned fantastic close-range opportunities to score the first goal, the opener actually came around in bizarre circumstances at the other end of the pitch: a long-range Pedri backpass, which Unai Simon completely missed and trickled in for an own goal.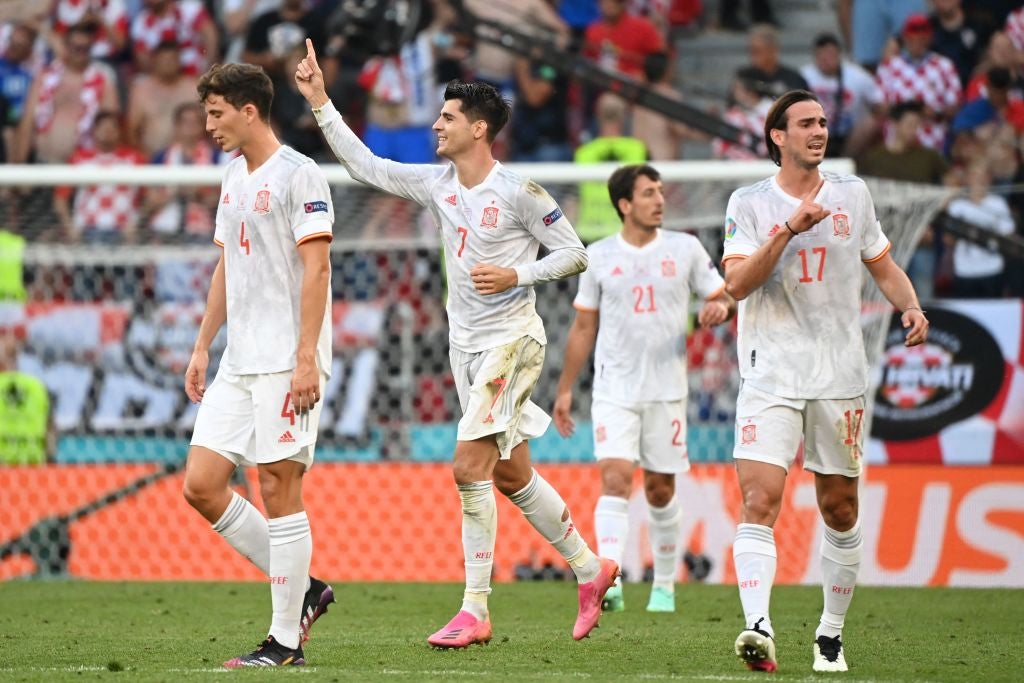 Croatia vs Spain result: Player ratings as Alvaro Morata settles a Euro 2020 classic
Croatia 3-5 Spain: A late two-goal comeback forced extra time before Spain finally sealed their progress
Remembering the day Thomas Muller tore England apart
There is something a little unsettling about the way Thomas Müller moves. There always has been.
For most fans around the world, their earliest memories of the gangly, ungainly German roaming around the pitch will date back to the 2010 World Cup in South Africa, his maiden major tournament. That will certainly be the case for English supporters.
If you watch back the last-16 tie between Germany and England – the nations' last meeting on such a stage – you will see the most devastatingly effective of performances from Müller, who was still just 20 years old at the time.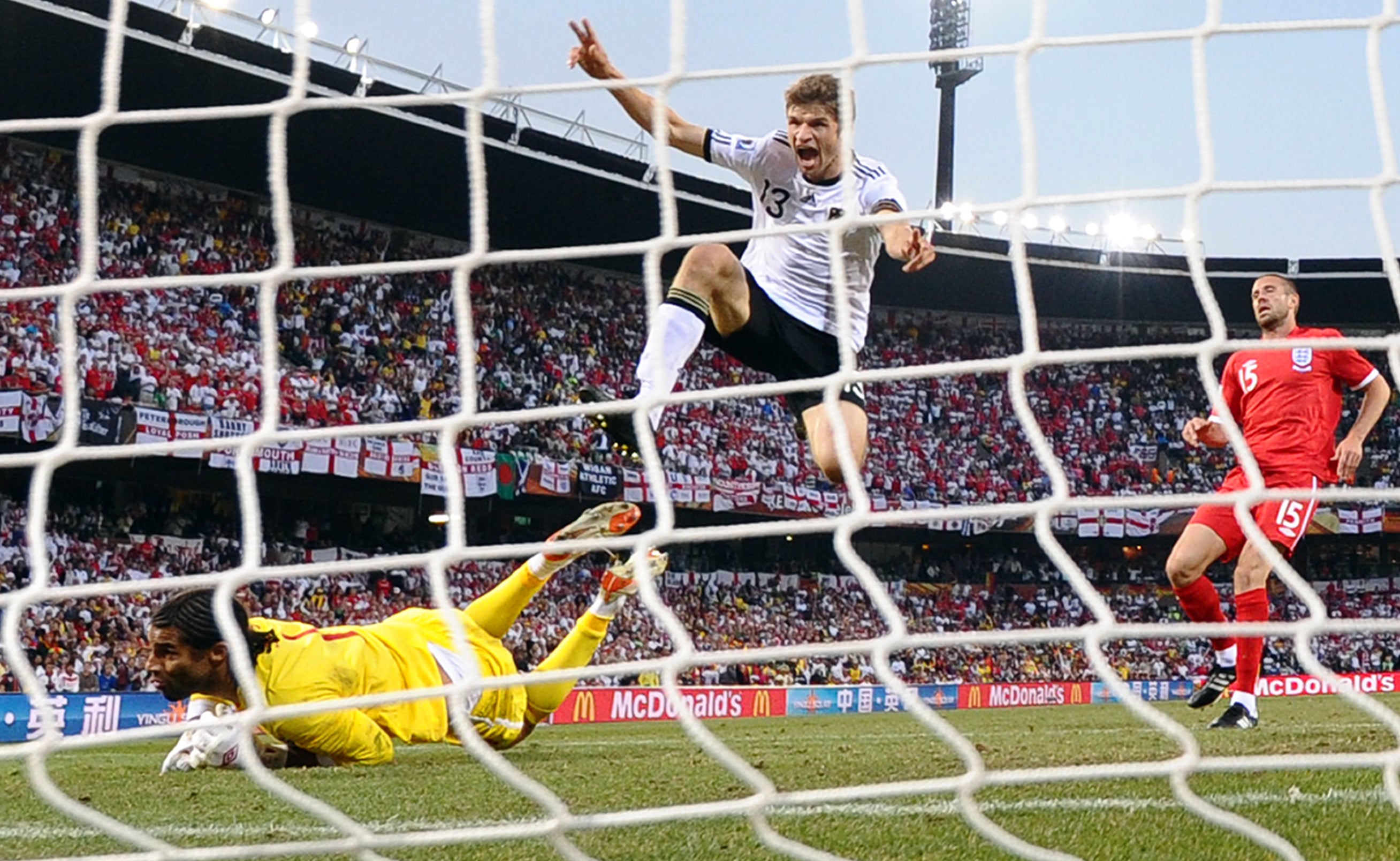 Remembering the day Thomas Muller tore England apart
The then-20-year-old was instrumental in Germany's 4-1 win against the Three Lions in the last 16 of the 2010 World Cup
England vs Germany predicted lineups
England predicted XI: Pickford; Trippier, Walker, Stones, Maguire, Shaw; Rice, Phillips; Foden, Kane, Sterling
Germany predicted XI: Neuer; Ginter, Hummels, Rudiger; Kimmich, Goretzka, Kroos, Gosens; Muller, Havertz, Gnabry
Why Euro 2020 knockout stage could yield an epic in the new 'England way'
It was not quite a rallying cry from Marcus Rashford, but it was a realisation. The England players are well aware their Euro 2020 has been out of sync with the competition as a whole. While most of the tournament has been sensationally open, their games have been tepidly subdued – so far.
"I feel like we have to bring the best version of us and take that to the game," Rashford said on Thursday. "We want to win the 'England way'."
What exactly that way is has formed the core discussion around the FA's recent revolution, as well as all the debate around the direction of Gareth Southgate's team. It is highly relevant to what is next, but also to why recent tournaments have been similarly out of sync with the country's modern history.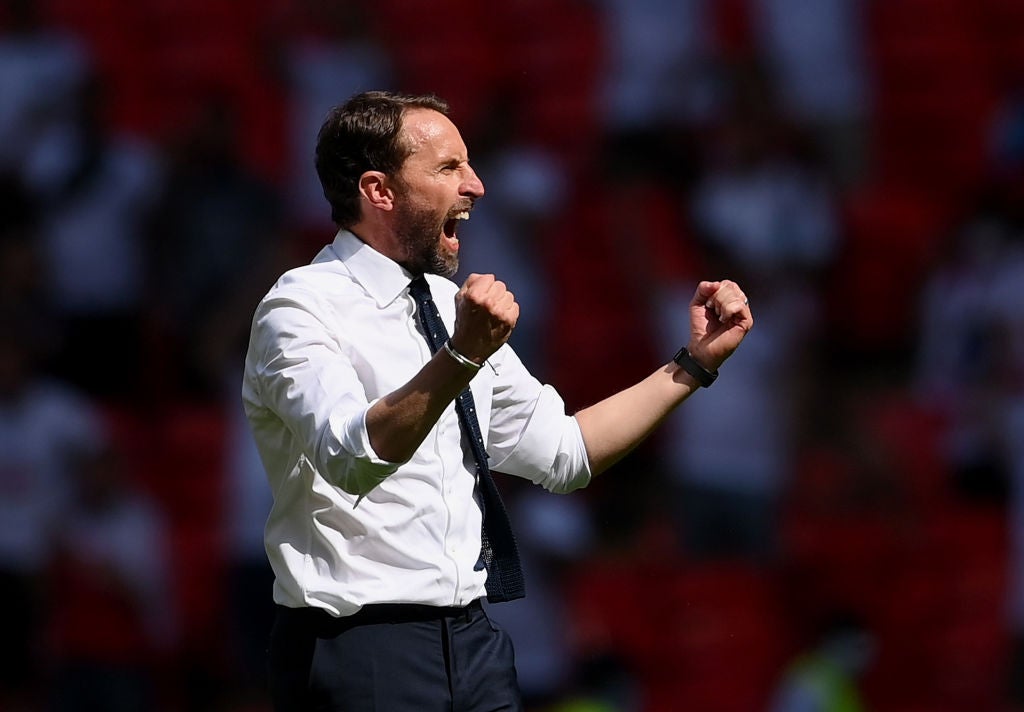 Why Euro 2020 knockout stage could yield an epic in the new 'England way'
Control and progress have been the order so far, but emotions will run higher in the all-or-nothing stakes of the knockouts
Morata, Mbappe, penalty shootouts and the day Euro 2020 exploded into life
Euro 2020 was no slouch in getting started with goals – the key currency for both the casual and the intent observer for international tournaments.
Three on the opening night, Italy netting them all past Turkey, turned into an average of 2.62 goals per match – not shabby at all, though nothing hinting at what was to come as the round of 16 moved past the halfway point.
Monday's pair of games, Spain first beating Croatia after extra time and then Switzerland producing a comeback and penalty shootout win over France having initially given up a lead of their own, yielded a relentless and awe-inspiring 14 goals – plus nine successful spot-kicks.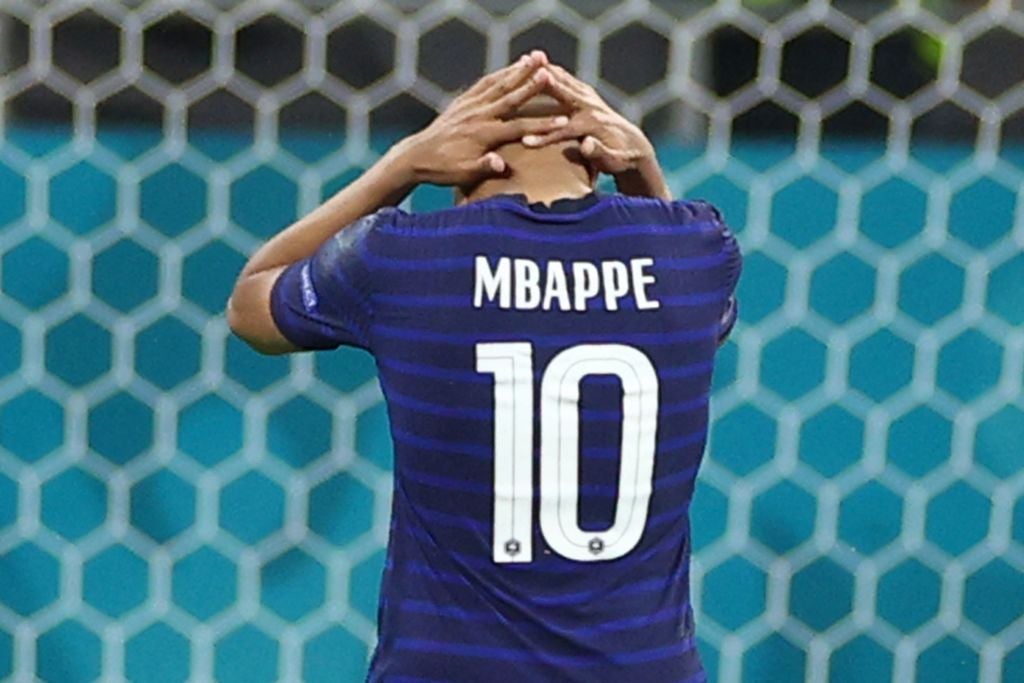 Alvaro Morata, Kylian Mbappe, penalty shootouts and the day Euro 2020 exploded into life
The tournament was already enjoyable and exciting, but two games on Monday have blown away viewers with great goals, comebacks, and twists in the tale
EURO 2020 REPORT: Switzerland beat world champions France in penalty shootout
Ladies and gentlemen, we have our upset of the tournament. Switzerland have done the unthinkable and dumped France out of Euro 2020. The favourites, the World Cup holders, shunted from the competition pencilled in as theirs. Concurrent world and European champions for a second time, they said. Not on our watch came the Swiss retort.
First they came back from 3-1 down in the final minutes of regular time, then they dug deep to make it to penalties. And with their first five penalties converted to lead 5-4 up, Kylian Mbappe's whipped effort was met with a rock-solid hand from Yann Sommer. The wait to confirm the legitimacy of the save felt like an age, but Sommer's left foot was on the line, celebrations went off and a stunning Monday of football had the most spectacular end.
The reward for Switzerland is a quarter-final meeting with Spain on Friday, but also the exorcism of a developing hex. This made it four consecutive major tournaments of getting out the group stages having fallen at the first hurdles in the 2014 and 2018 World Cups, and Euro 2016. Though they stumbled at times here, they have finally made the leap.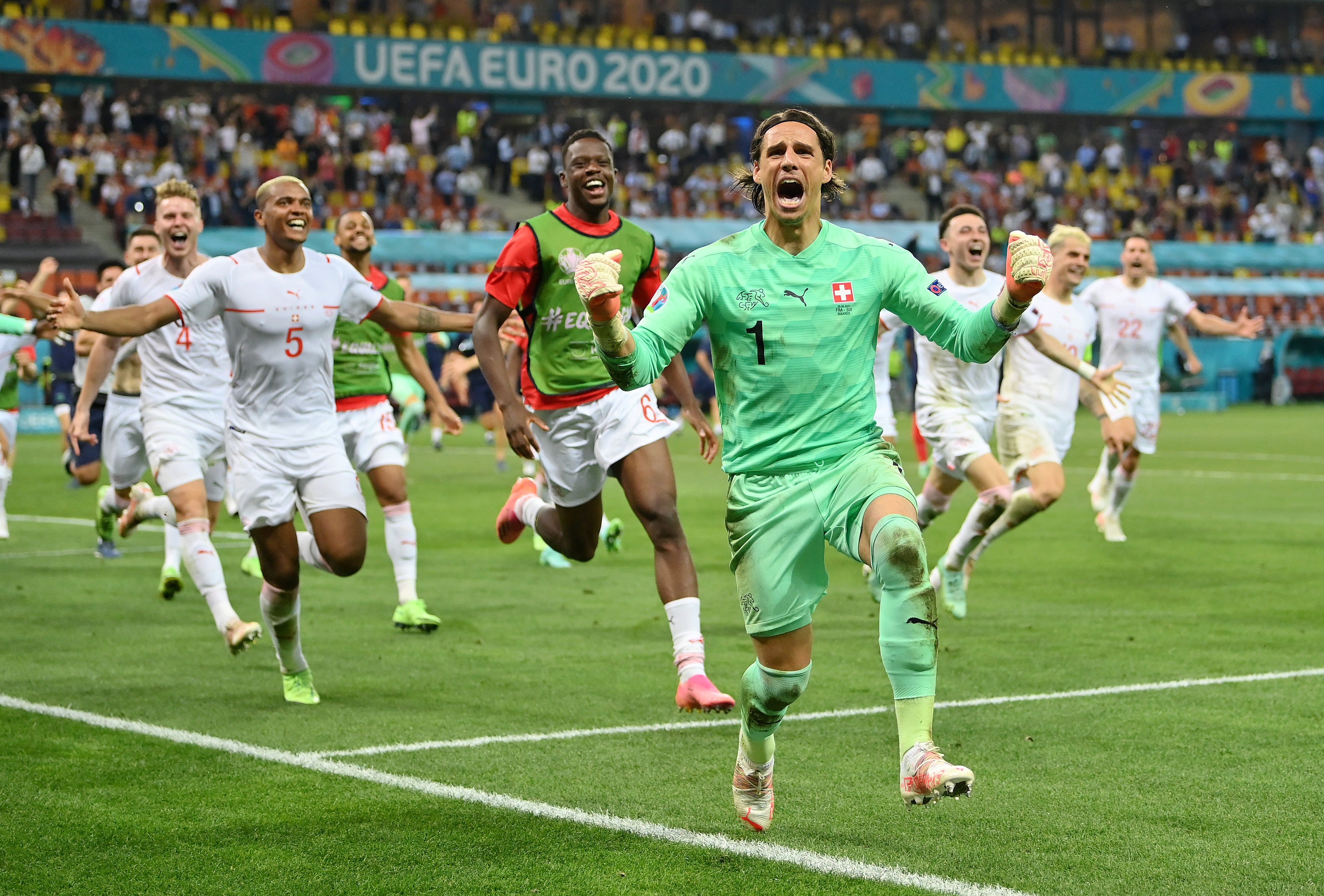 Switzerland beat France in penalty shootout on night of high drama
France 3-3 Switzerland (4-5 on pens): The glory for Vladimir Petkovic was on a similar level to Didier Deschamps' dismay. The French turned up, but the Swiss turned it on
Low faces one of his greatest tactical tests as Germany meet England
When Joachim Low made the calls to bring back Thomas Muller and Mats Hummels, there were a lot of murmurs at the top end of German football. Some thought it brave and necessary. Others felt it was weak and indecisive.
Such differing perspectives sum up the wider debate around Low, and whether he's even been a 'good' manager for Germany. That might sound absurd for a man who has won the World Cup, but that debate doesn't stop with the trophy. It starts with the World Cup-winning quality he had available, and whether Low made the best of it. Germany were the first country to "industrialise" football talent production, creating a wave of elite players in that first generation. Low didn't exactly industrialise trophy returns, winning only one out of six tournaments so far.
The recall of two totems of that 2014 victory in Muller and Hummels seems symbolic. It provokes the question of whether Low's own performance was dependent on that talent, and how much effect he actually had.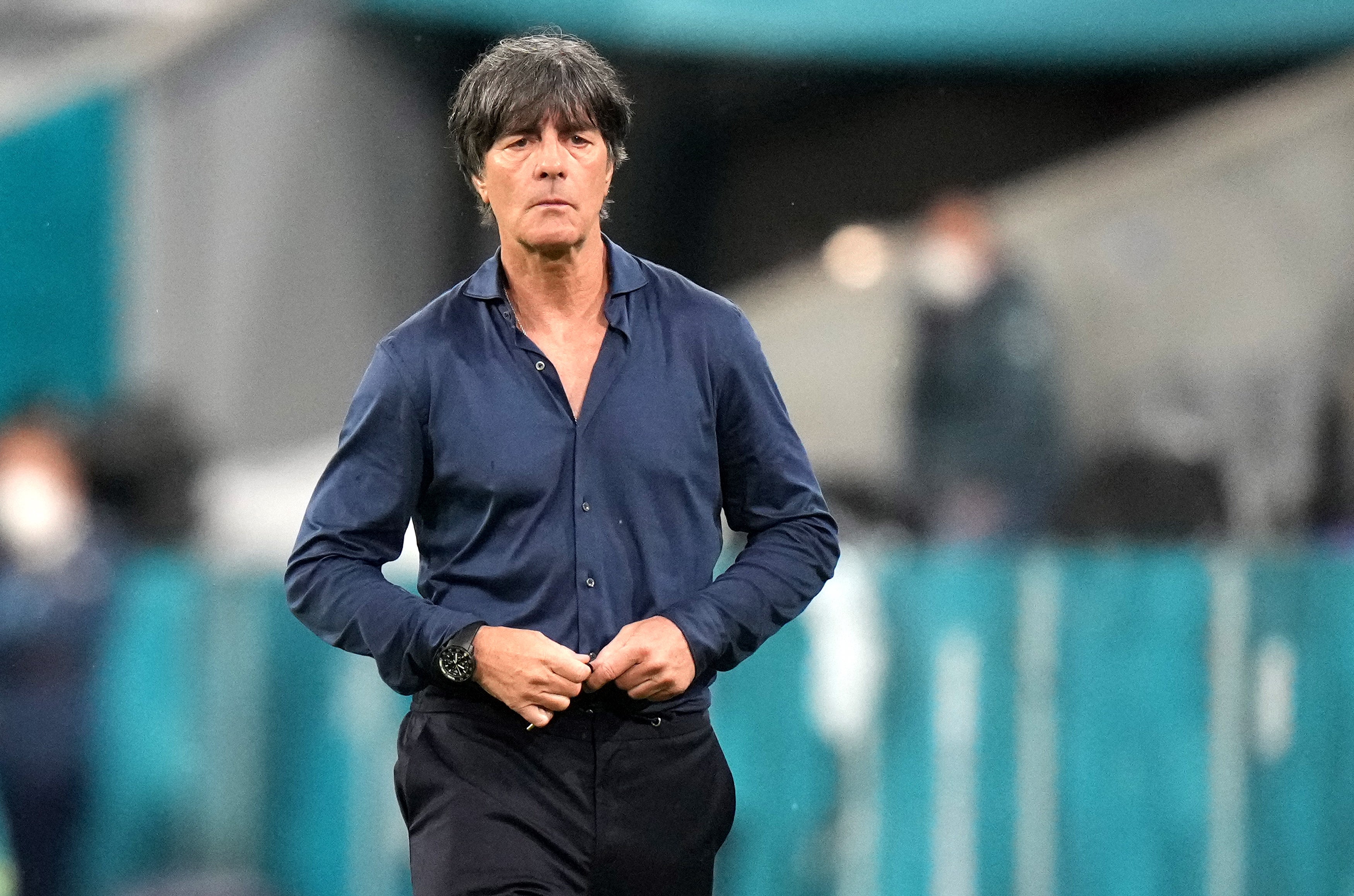 Joachim Low faces one of his greatest tactical tests as Germany meet England
This match, more than any other in his time as Germany manager, will reveal plenty about Joachim Low's coaching abilities in a game setup to be a duel between the two managers
Source: Read Full Article