In calculating the stations of progression at Arsenal and Liverpool, it is worth trailing back to the summer of 2013 when Jurgen Klopp, in charge of Borussia Dortmund, turned high-end in the transfer market as he tried to close a 25-point gap on Bayern Munich, the Bundesliga champions.
With funds from the sale of Mario Gotze to Bayern, Klopp went on a spending spree, securing a trio of ambitious 24-year olds for a club record £47.5m. Six seasons later, they are all now Arsenal players, with Pierre-Emerick Aubameyang, Henrikh Mkhitaryan and Sokratis Papastathopoulos all arriving in London in the last 10 months carrying more experience than they had when they signed for Klopp, but not necessarily realistic possibilities around longevity or the promise of dramatic individual improvements being a feature of their own futures.
The Klopp in Dortmund from 2013 to 2015 did not yield the same results as the Klopp in Dortmund from 2008 to 2012, or the Klopp that has been in Liverpool from the last three months of 2015 until now. While Sokratis played but did not dislodge Mats Hummels or Neven Subotic for the biggest games, Mkhitaryan came to symbolise the team's toil in this period as he struggled to deliver goals or assists.
"I had many hard nights in my apartment, all alone, just thinking and thinking," Mkhitaryan later reflected on the 2014/15 campaign when Dortmund were in the relegation zone at Christmas, and he mightn't have been the only person at the club that "didn't want to go outside, even to have dinner".
He did not cite Klopp as a reason for his problems but following Klopp's departure, the Armenian improved. "A new manager, Thomas Tuchel, came to Dortmund before my third season, and he changed everything for me," he concluded.
What concerns Klopp most as a manager is when chances are not forthcoming, like at the end of his time at Dortmund when Mkhitaryan was supposed to be the source. "As long as you create, you should not be in doubt because players do not really change," he said on Friday, as he spoke confidently about the improvement in Mohamed Salah's recent performances as well as his output.
It does make you wonder whether Mkhitaryan's difficulties under his guidance has made him think differently about the way his teams set up, having only recently returned to the 4-2-3-1 formation that he used so successfully when Gotze was used as a number 10 rather than Mkhitaryan.
Under Klopp, Philippe Coutinho was a number 8 or a number 11 but seldom was he selected in his natural position and though Klopp wanted to sign Nabil Fekir, he ultimately has not replaced the Brazilian directly even though financially he had the backing to do so. Klopp confirmed on Friday it is unlikely this will change in January unless injuries change the dynamics for him around the issue of availability.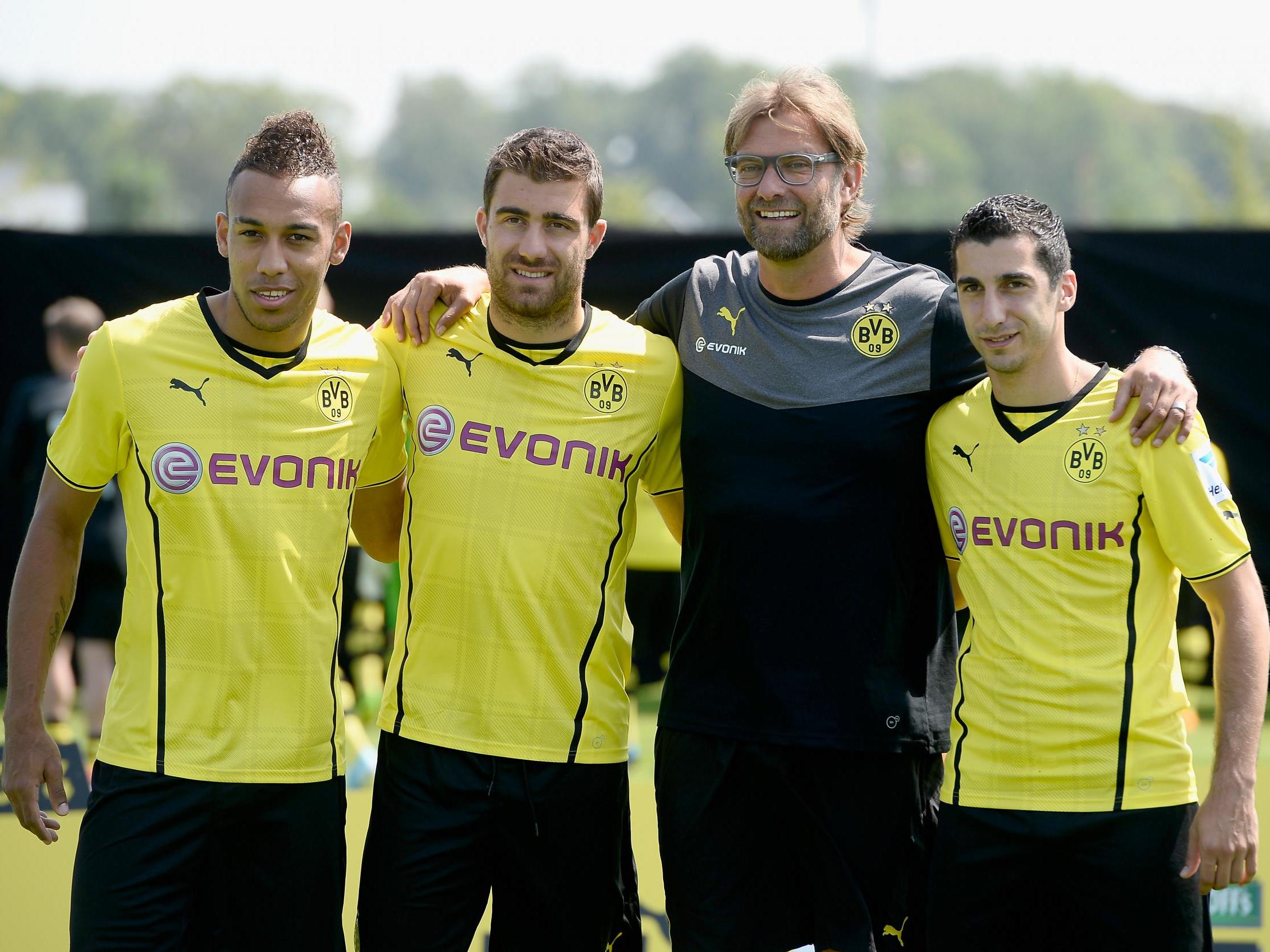 "If something happens we might have to think new but we have each position twice, three times and sometimes four times covered," he said. "I don't think there is any reason to try to do something really big like bring in another striker. We have all what we need. Our job now is to use the quality that we have, to work with it, because one player doesn't change it."
Of the three Arsenal players with connections to Klopp, Aubameyang is the most obvious threat to Liverpool's unbeaten start in the Premier League. "Oh, Auba…yes, speed," Klopp said when his name was mentioned at Melwood. He had signed him from Saint-Etienne and like Mkhitaryan, his importance would rise under Tuchel, for whom he would score 39 times in total during 2015/16. By then, the question marks that had followed him around under Klopp relating not only to his ability but his personality had disappeared. It is fair to say that the Ruhr Valley, a working class region, did not immediately take to a footballer who turned up at training in any number of luridly painted sports cars, especially when his performances were steady rather than spectacular.
"He's one of the best players for the counter-attack that you can find on this planet," Klopp said enthusiastically of someone who Arsenal's manager Unai Emery has mainly used from a wide position rather than through the centre where he was so effective under Tuchel.
"When we scouted him at Saint-Etienne he played more from the wing and he played more for me at Dortmund on the wing as well because for us it was not clear how he could keep the ball up front with his back to the opponent," Klopp admitted. "But then, he ended up doing that really well as well, so he can play both positions: from the wing or as a single striker or together with another striker. This makes him a very good player to be honest. He's a really nice guy; very, very nice guy with different tastes gear wise, stuff like that. It was always really a pleasure to work with him."
It was slightly trickier for Klopp to discuss another player with Bundesliga experience who like the other three at Arsenal already mentioned, will be 30-years-old when this season is over. What did Klopp think when Mesut Ozil decided to retire from the national team in protest against members of the country's football federation "with racially discriminative backgrounds"?
"I need to have an opinion because I'm German?" Klopp asked. "It's a personal decision. He says he doesn't want to play anymore after what, 90 games? Why not? Nobody has to blame him for not being there. He did everything. He became world champion. He had fantastic games for Germany and now he does not want to do it anymore. The reasons are not my reasons. Only one person can really talk about that and that's Mesut Ozil and maybe someone from the German FA. Not me. I am not the Daily Mail."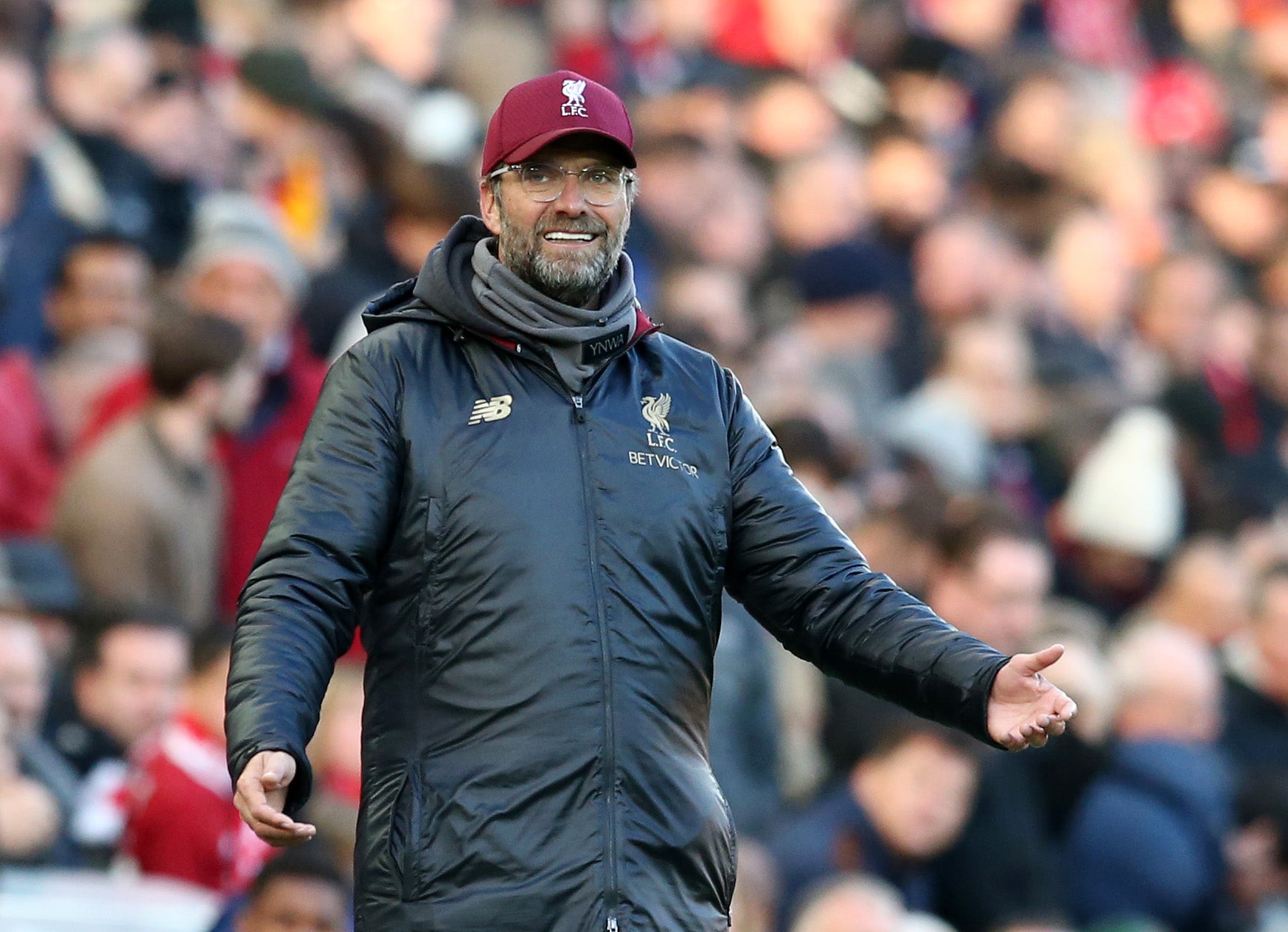 Klopp's sharper focus was on football matters that related to himself. Liverpool have 26 points from 30 available and normally, this would be enough to see them at the summit of the league table. Instead, they are second on goal difference. There is a feeling that if Liverpool are to have a chance of toppling Manchester City, they will have to win at Arsenal. Like in 2013, the gap between the team he manages and the team he is trying to displace is set at 25 points.
"It is probably the most exciting season for years," he said. "In Germany, they were constantly complaining about Bayern and everybody knowing who will be champion by October. Last year a few teams played really good seasons but there was no chance to catch City because, by October-November, the gap was already that big. I remember when we played City last season, when we lost there 5-0, that was the day that City really clicked. It looked good for them before that but in that this they got all the confidence and we got the opposite and it led to a 25-point gap. For us, though, it is not important what other teams are doing, only when we play them. We are really focused on us, really focused on us. That is the only way I know it will work."
Follow the Independent Sport on Instagram here, for all of the best images, videos and stories from around the sporting world.
Source: Read Full Article