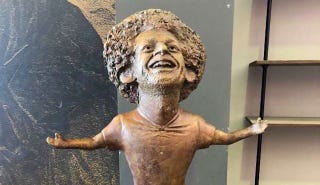 Last season, Liverpool forward Mohamed Salah went a long way toward consecrating his status as an all-time great by scoring the most goals ever in a single 38-game Premier League season. This weekend, Salah saw his legendary case strengthened even further when someone made an ugly statue of him.
Yes, like Cristiano Ronaldo and Diego Maradona before him, Salah can now count himself among the superstar soccer players who have been enshrined in a comically bad artistic work. The sculptor of his is one Mai Abdallah, an Egyptian woman who unveiled the statue at the World Youth Forum this weekend, which is currently being held in Salah's and Abdallah's native Egypt. Whether you feel the rendering bears much resemblance to Salah himself and his famous splay-armed goal celebration, or if you, like me, think it might more accurately be described as a depiction of Richard Simmons at the 45-minute mark of a Funk Away the Fat VHS, what is clear is that the statue is incredibly weird in a funny but also slightly unsettling way:
Abdallah seems to be taking the resulting controversy in stride—which makes sense, since by the evidence of her other works, she's a legitimately really good sculptor. In a Facebook message, Abdallah defended the statue, explaining that when she started on it she never intended it being that serious of a thing. It was more of a quick project she could crank out and document the steps of its creation on Facebook to give her friends and fans an insight into her process.
Advertisement
Abdallah went on to say that the quality of the plaster she made didn't transfer particularly well during the bronzing process, so the result wasn't as good as it could've been. But, because she didn't think it was all that big of a deal, she decided to show it at the World Youth Forum regardless. At one point in Abdallah's statement, she addresses the haters: "I hope people learn the art of polite and respectful criticism."
With that in mind, we can say that the Salah statue is bizarre and dumb in a great way, and that Abdallah remains a champ for being an otherwise talented artist who hopefully won't let the negative response to this one bizarre piece of work get her down. And at any rate, there is no better testament to just how great a player Salah has become than to place him in the proud tradition of the fellow greats by making a terrible statue in his honor.
Source: Read Full Article