Sydney FC are on the search for extra footage that could help free Alex Baumjohann for next weekend's A-League derby after the German was issued a two-match suspension for "violent conduct" against Melbourne Victory veteran Leigh Broxham.
Baumjohann was red-carded in the dying moments of Friday night's 3-0 win over Victory at AAMI Park for lashing out at Broxham, who had tackled him.
Sydney FC star Alex Baumjohann could miss next weekend's derby due to suspension.Credit:Getty
The A-League's match review panel met on Monday and deemed the 33-year-old was guilty of "assault" on Broxham and slapped him with a two-game ban – the minimum for such off-the-ball challenges.
The Sky Blues were bracing for a one-week suspension, which would have only sidelined Baumjohann for Friday night's home clash with Brisbane Roar. But now the creative midfielder will miss the second Sydney derby of the season against his old team, unless the club can have the offence reclassified as serious foul play, which would allow for the sanction to be reduced by a week.
Sydney were on Monday seeking alternate camera angles of the incident, with footage inconclusive as to whether Baumjohann struck Broxham with a closed fist as referee Alex King wrote in his report of the match.
Broxham's reaction was slightly delayed, but he subsequently rolled around on the ground in feigned agony before receiving his second yellow card of the match for the original tackle.
Alex Baumjohann celebrated his goal by flexing his muscles in front of Melbourne Victory fans.Credit:Getty Images
Sydney coach Steve Corica later said the decision to send Baumjohann off was "soft" and said his player was simply trying to push Broxham away.
Baumjohann would not comment on the incident but told the Herald he was "disappointed" at the prospect of sitting on the sidelines because both himself and the team were in such good form.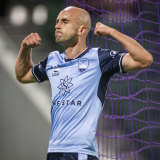 Former Sydney FC gun Adrian Mierzejewski.Credit:AAP
"I don't want to miss any games. Hopefully I'm allowed to play," he said.
It was Baumjohann's best performance yet for the Sky Blues, with the former Bayern Munich and Schalke man involved in the build-up for the team's first two goals, before scoring his first for the club in the 85th minute.
Baumjohann celebrated by flexing his biceps in front of the Victory home end, prompting empty bottles being thrown from the grandstands in his direction – but he said he was not trying to irritate their fans, nor was he paying tribute to Adrian Mierzejewski, the former Sydney FC star who saluted his goals in the same way.
"I have the names of my daughters tattooed on the inside of my arms, and that's more for them," Baumjohann said.
"First I'm kissing my wrist – this is where I have a tattoo of the rings from my wedding, and then I'm just showing my daughter's names. It's not a muscle man celebration. I'm always doing this.
"It was not against their fans. Our fans were on the other side, so I [wasn't going to] run to the other side to celebrate with our fans because it was a long way."
Baumjohann said he was thrilled with life at Sydney FC, who are 10 points clear on top of the A-League ladder with a game in hand, and appear to be a class above the rest of the competition.
"I said it from the beginning, when I joined this club, here it's all about winning," he said. "We want to win all the games and I'm just very happy that I'm here. In a team with so many good players, I can play my best football.
"I knew at Sydney FC, things are different, the mentality, the culture, everything is just about winning and winning games, and trophies. I don't know if I expected that we would win 12 of the first 14 games, which is really not easy, but everyone is really happy at the moment and I think you can see this on the pitch."
Source: Read Full Article