"If you give Trent a point to prove, he will do everything to make sure he proves it," came the reaction from one member of Alexander-Arnold's close circle following Gareth Southgate's decision to omit the right-back from the England squad. 
Those words were co-signed by those that have worked with the player at Liverpool's Academy and in the senior set-up. They would know too, having watched a young midfielder morph into one of the world's best fullbacks – in a supremely demanding system – after only three months of rigorous conditioning for the role change. 
Those words were in motion at the Emirates on Saturday night, where Trent Alexander-Arnold conjured Liverpool's best chances against Arsenal and was pivotal to a 3-0 victory. 
His delivery was exemplary, with James Milner doing the 22-year-old's cutback from the byline a disservice with a wide first-time hit. 
The clinical Diogo Jota, repositioning himself as Liverpool's decisive edge, made no such error as he came off the bench in the second half and powered in Alexander-Arnold's stellar cross towards the far post for the opener. "The ball was unreal," the Portugal international enthused.
Read more:
Liverpool's rematch with Real Madrid is about more than revenge
England Euro 2020 squad: Who's on the bus, who could miss out? 
British basketball has done so much with so little but its potential has never been greater
England players must realise their power after passing up chance to protest over Qatar
The difference between the wasted service in the first half and that assist on 64 minutes is helpful to sketch an accurate storyline of the Scouser's season. 
"I don't think that Trent has played at the level that he found in the last couple of years," Southgate said, explaining his rationale.
Independent Football Newsletter
Get the latest football headlines direct to your inbox twice a week
Read our privacy notice
Independent Football Newsletter
Get the latest football headlines direct to your inbox twice a week
Read our privacy notice
That, in its rawest state, is true. But the factors behind that have been beyond Alexander-Arnold's control. 
He has still been a prime creator for Liverpool, but as was the case with the Milner opportunity, much of his supply has not received the same finishing treatment as recent campaigns. 
The injury crisis that debilitated the club dispossessed its attackers of confidence and made it easier to stifle the playmaker, who had less movement to find while worrying about the instability behind him. 
The loss of cover protection from Jordan Henderson when the captain was switched to centre-back, the ceding of Virgil van Dijk's threat from attacking set-pieces and the Dutchman's defensive influence also impacted Alexander-Arnold's natural game. Not having Joel Matip or Joe Gomez on his side, as would normally be the case, was also unhelpful.
Thiago, brought in to help funnel the creativity centrally as opponents increasingly shut the wide areas, was also obstructed by these circumstances with his midfield partners shifted to the back.
Liverpool were such a distance from themselves, it is nonsensical to have expected Alexander-Arnold to remain the same and perform at maximum level. 
READ MORE:
Five things we learned from Liverpool's win at Arsenal
Player ratings from Chelsea's shock defeat to West Brom
What he did do, along with Andy Robertson, is assume greater responsibility in the rearguard. The club's defence depended on them: their availability, their understanding, their ability to link the back and front. 
He'd taken on more – thankless work in a taxing situation with no breathers – receiving less appreciation. 
Alexander-Arnold has also had to navigate suffering from Covid this season as well as a calf problem.  Very little has gone his way, yet he still has tried to make the most out of it. He's done very little wrong.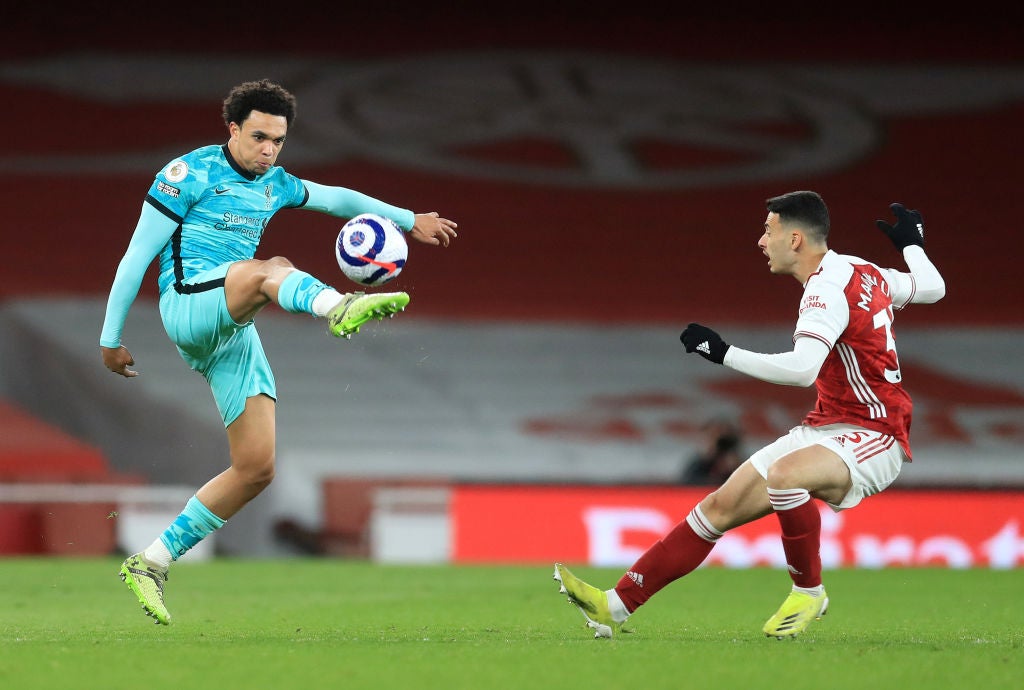 It is no shock that he has improved as Liverpool have, owing to a settled XI.
Early in the second half at the Emirates, there was a milestone in the context of the club's cursed case of centrebackitis this season. 
Nathaniel Phillips and Ozan Kabak clocked 226 consecutive minutes together, establishing them as the club's longest pairing on the spin in the heart of defence. The duo's communication and chemistry have all evidently improved given time together on the training pitches and the presence of Fabinho stationed in front of them. 
Having greater stability in that core area has done wonders for the team and for Alexander-Arnold. He made the most key passes at the Emirates and his fingerprints were on all three goals.
"Trent Alexander-Arnold showed his class, again," Jurgen Klopp said.
"I don't want to make another discussion about Trent or stuff like that… But if somebody says he is not in good shape, then I have to say he is wrong, that is all."
On Saturday, Alexander-Arnold made sure he proved a point. In truth, he didn't really need to.
Source: Read Full Article